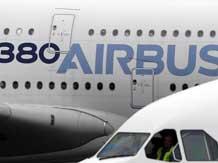 United Bank of India is set to complain to the European market regulator about Airbus' declining to return an advance from Kingfisher for purchase of aircraft.

The Kolkata-based bank has already declared Kingfisher a wilful defaulter.

A consortium of banks had made pre-delivery payments for the purchase of 20 aircraft, which were never delivered.

The total value of lenders' dues for the aircraft purchase comes to around Rs 192 crore (Rs 1.92 billion).

The Vijay Mallya-promoted airline has been grounded since October 2010.

UBI will also inform Securities and Markets Authority about the Bangalore Debt Recovery Tribunal's order against Kingfisher, UB Holdings and in September this year, in which it had granted attachment of pre-delivery payments.

The tribunal had earlier passed an interim attachment order, which was made 'absolute' in September.

Airbus had objected to the interim attachment arguing that the DRT had no jurisdiction over Airbus, the applicants (banks) have no cause of action against Airbus and it owes no debt to the banks.

However, the plane maker's plea was not accepted.

"Public money is involved in this case and the aircraft were not purchased.

"So, we ought to get our dues from Airbus and Kingfisher. It is unethical not to do so," said Deepak Narang, executive director, United Bank of India.

Pre-delivery payment can be 20-30 percent
of the agreed purchase price of an aircraft and is financed either through internal accruals, bank borrowings or through funding by engine manufacturers.
The payments are made 24-48 months before the delivery of the aircraft and the balance is either paid through bank loan or by a lessor.
Airbus has, on the other hand, recently bagged large orders from Indian airlines such as Indigo and Go Air and news reports suggest it will enter into a joint venture with the Tata group for transport planes in the defence sector.
"Any questions pertaining to an airline should be addressed to them.
"As for delivery schedules and other items in commercial contracts, these details remain proprietary and confidential as is the industry standard," a spokesperson for Airbus said in a statement.
In its heyday, Kingfisher had placed orders for various types of Airbus planes including five super jumbo A380s and five A350 planes.
While the order for these 10 planes was cancelled this year, the plane maker continues to keep 82 planes (67 A320s and 15 A330s) order from Kingfisher on its books anticipating a revival.
Financial crisis led Kingfisher to first curtail its fleet and network and, eventually, suspend its operations in October 2012.
The airline's permit was suspended by the Directorate General of Civil Aviation in the same month.
"The aircraft orders were not cancelled by Kingfisher and Airbus had begun manufacturing the planes, but the airline was not in a position to induct them because of its financial problems," said an airline executive.