Twitter Inc revealed on Tuesday a tripling in quarterly losses as it prepares to list on the New York Stock Exchange in one of the year's most anticipated IPOs.

The online messaging service's decision to go with the older exchange deals a blow to the tech-heavy Nasdaq, which bungled Facebook Inc's 2012 offering. Twitter is now expected to kick off its investor roadshow on Oct. 28 where it will pitch its offering to Wall Street before shares start trade in mid-November, two sources familiar with the situation said Tuesday.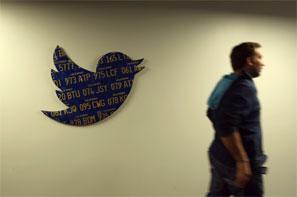 In an amended IPO filing on Tuesday, the eight-year-old company showed that it sustained its recent pace of revenue and user expansion in the latest quarter ended Sept. 30 - even though its losses continued to widen.

Among the biggest winners of a successful IPO would be co-founder Evan Williams with a 12 per cent stake. Rizvi Traverse, run by Hollywood and Silicon Valley financier Suhail Rizvi, and its affiliates hold 17.6 per cent, as the largest institutional holder. J P Morgan Chase's alternative asset management arm holds another 10.3 per cent, the filing revealed for the first time. CEO Dick Costolo, an early angel investor, owns 1.6 per cent.

Rizvi and his investors, who obtained their shares with the help of Silicon Valley investor Chris Sacca, paid more than $1 billion for their stake, Reuters reported in October.

Other major stakeholders include Spark Capital and Benchmark Capital, which own 6.8 per cent and 6.6 per cent of the company, respectively. Union Square Ventures owns 5.9 per cent.

Twitter's debut will be the culmination of a journey from side-project to socio-cultural phenomenon, one that has become a communications channel for everyone from the Pope to President Barack Obama.

The company more than doubled its third-quarter revenue to $168.6 million. But net losses widened to $64.6 million in the September quarter compared with $21.6 million a year earlier.

And in the three months ended September, Twitter grew its monthly active users 39 percent to 231.7 million on average. That figure was up from about 218 million when the company first disclosed its IPO filing on Oct. 3.

Those losses were driven partly by a 158 percent surge in sales and marketing spending, as the company ramped up its sales forces in offices around the world to push its advertising platform. Sales and marketing costs rose to $61.2 million from $23.7 million a year earlier.

Twitter said its revenue is increasingly coming from mobile devices, the preferred way for most users to log on. In the three months ending through September, over 70 per cent of advertising revenue came from phones and tablets versus 65 percent in the prior quarter.
Exchange wars

Twitter represents the latest loss for Nasdaq OMX Group in recent years. The NYSE Euronext's aggressive campaigning helped snag LinkedIn Corp and Pandora Media Inc, amongst other high-profile consumer-tech debutantes.

Both bourses vied fiercely for the prestige of hosting Twitter. But analysts had predicted that Facebook's debut, marred by a series of technical glitches that delayed the start of trading, could weigh against the Nasdaq.

Nasdaq CEO Robert Greifeld flew to Twitter's San Francisco headquarters as recently as Oct. 4 to make one last unsuccessful pitch for listing on his exchange, a person close to Twitter said.

"This is a decisive win for the NYSE. We are grateful for Twitter's confidence in our platform and look forward to partnering with them," said Scott Cutler, head of NYSE's listings business.

In a statement, the Nasdaq said it "wished Twitter well."