As promised, Domino's 20-minute delivery started across 170 stores in Bengaluru on Tuesday.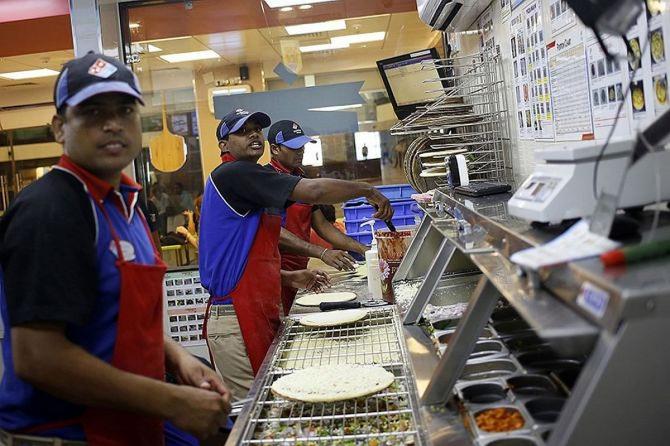 But, as the day progressed, some teething issues came to the fore.
If delivery partners' accounts are anything to go by, these are unlikely to go away anytime soon.
To test out the service in Bengaluru, a customer downloaded the Domino's Pizza application (app) and placed an order for a double cheese margherita.
The order got accepted at 2.51 pm as soon as the payment was done and the dashboard of the app showed a 20-minute delivery guarantee.
However, for 28 minutes, the pizza was still in the process of getting baked.
It got despatched and took another 26 minutes to be delivered.
One of the delivery riders said there was pressure to deliver the orders within 20 minutes, but sometimes there are challenges that they need to rise above, such as traffic gridlock, finding the correct address, and running out of fuel.
Domino's said it has made efforts that have resulted in a more efficient overall delivery process without compromising on the quality of food or the safety of its delivery riders.
The firm said it had a proven track record of delivery prowess, having pioneered the 30-minute delivery and established itself as a market leader in the quick service restaurant sector.
The company has now set a new benchmark of 20 minutes by enhancing in-store process improvements, upgrading technology (tech), including rider tracking and route optimisation, and expanding its store network.
Jubilant FoodWorks, the operator of Domino's Pizza, has unveiled an ambitious plan to launch 20-minute-delivery services in metro cities across India — Mumbai, Delhi, Kolkata, Chennai, and Hyderabad — in the next 12 months. Jubilant launched the plan in Bengaluru on Monday.
The firm has been working for the past three years to set a new benchmark.
"Every year, we shave off four/five seconds in the pizza-making process without changing the procedure," said Sameer Khetarpal, chief executive officer (CEO) and managing director, Jubilant FoodWorks, in an interview, adding, "For example, if it takes five seconds to put the pizza in a box, can we do it in just four seconds.
"If it takes 15 seconds to cut a pizza, can we do it in 12."
Khetarpal said the company is also committed to ensuring the safety and well-being of its delivery personnel by providing them with the necessary training and sensiti­sation.
"By using analytics, insights, and tech, we can give our customers hotter, fresher, and tastier pizzas than ever before," said Khetarpal.
Jubilant holds the exclusive mas­ter franchise rights from Domino's Pizza, Inc. to develop and operate the Domino's Pizza brand in India, Sri Lanka, Bangladesh, and Nepal.
In India, it has a strong and extensive network of 1,760 Domino's restaurants across 387 cities.
In Sri Lanka and Bangladesh, the company operates through its 100 per cent-owned subsidiary, which currently has 47 and 13 restaurants, respectively.
It also operates Dunkin' restaurants in India and Popeyes in India, Bangladesh, Nepal, and Bhutan.
The company plans to invest Rs 900 crore and open 250 stores for Domino's in India in the next 12-18 months.
This is part of the plan to set open 3,000 Domino's stores globally.
In India, Jubilant is playing in a market which is worth $45 billion.
Khetarpal said that the company also has plans to tap into tier II and III locations, based on the growth of disposable incomes.
For instance, it is setting up stores in places like Raipur, Tumkur, and Coimbatore.
Domino's is not the only firm betting big on quick commerce.
Apps such as Blinkit, Swiggy Instamart, Zepto and others are already competing to deliver essential groceries in 10 minutes to half an hour.
Swiggy recently said couples across India are using Instamart to purchase and deliver gifts to their loved ones.
Instamart itself, which sold over 250,000 red roses last Valentine's Day, has been boosting the procurement of red roses.
It sold over 1 million roses this year's Valentine week.
Launched in August 2020, Instamart is now present in over 25 cities.
It uses Swiggy's tech and dedicated delivery fleet to bring groceries and other daily essentials to the doorstep of Indians within minutes.
The aim is to deliver groceries in 10-15 minutes through a network of seller-owned dark stores.
Tech plays a key role in ensuring only the freshest produce reaches consumers.
For instance, artificial intelligence-based quality measurement tools that use image recognition help check the quality and grade of the produce.
The seller-run dark stores have temperature sensors to ensure that the correct ambient temperature is maintained to keep the produce fresh.
Zepto recently said it would stick to the promise of 10-minute deliveries.
Although many quick commerce businesses are shifting from shorter deliveries to handle losses, Aadit Palicha, co-founder and CEO, Zepto, recently said that although challenging, the model can be profitable.
He said many of the company's dark stores are on their way to profitability and the business focus is on improving unit economics and increasing scale.
He said that quick commerce is the fastest-growing consumer tech industry in India.
"We are doubling down and working hard to get more deliveries done in 10 minutes," Palicha had said in an interview, adding, "Our core objective is to stick to that brand promise."