A maximum quantity of 23,340 tonnes was seized in Maharashtra, followed by 4,525.19 tonnes in Chhattisgarh.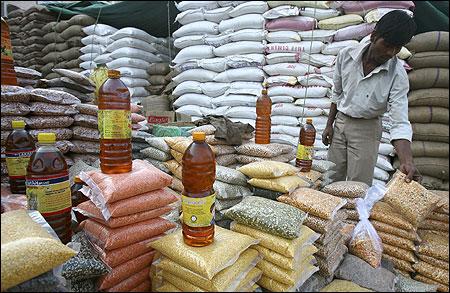 The Centre on Wednesday said over 35,000 tonnes of pulses have been seized from 10 states in two days after the state governments intensified crackdown against hoarding and black marketing of the commodity.
"De-hoarding operations have been further intensified by the states to check hoarding of pulses. More than 35,000 tonnes of pulses have been seized in 10 states," the Consumer Affairs Ministry said in a statement.
The state governments were exhorted to carryout surprise inspections and raids to prevent hoarding. As a result, a total of 35,288 tonnes of pulses have been seized during 2,704 raids carried out in 10 states, it said.
A maximum quantity of 23,340 tonnes was seized in Maharashtra, followed by 4,525.19 tonnes in Chhattisgarh, 2,546 tonnes in Telangana, 2,295 tonnes in Madhya Pradesh, 1,168 tonnes in Haryana, 859.8 tonnes in Andhra Pradesh, 479.6 tonnes in Karanataka, 68.47 tonnes in Rajasthan, 4.32 tonnes in Tamil Nadu and 2.44 tonnes in Himachal Pradesh, the statement added.
The Centre has also asked Haryana state cooperative Hafed has been asked to procure pulses from the market and sell thought its outlets in the state.
In Uttarkhand, mandi samitis have opened retail outlets in Dehradun, Haridwar and Udhamsingh Nagar for selling tur dal at Rs 145/kg. The state government has also been directed to distribute pulses at decided rate via ration shops, it added.
In Delhi, tur dal is being sold at Rs 120/Kg through outlets of Safal and Kendriya Bhandar, while in Tamil Nadu, the government is selling 1 kg urad at a highly subsidised rate of Rs 30 per kg.
Where as the Andhra Pradesh and Telangana governments are distributing one kg of red gram at Rs 50 per kg to provide relief to consumers.
Following action against hoarding in some states, tur prices on Wednesday declined marginally to Rs 205 per kg from Rs 210 on Tuesday in retail markets.
Prices of moong, masoor and gram (chana) also showed a slight decline to Rs 130, Rs 110 and 82, respectively, while urad rates remained unchanged at Rs 198 today from over Tuesday's level, government data showed.
Prices have shot up due to a fall in output by two million tonnes in 2014-15 on deficient and untimely rains.
To control skyrocketing prices, the Centre has taken several measures such as creating a buffer stock of 40,000 tonnes, sale of imported pulses at cheaper rates and imposition of stock limits on traders as well as departmental stores, licensed food processors, importers and exporters.