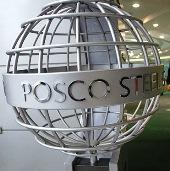 An illiterate tribal woman from Orissa's Jagatsinghpur district is all set to play a vital role in deciding the fate of the Rs 51,000 crore (Rs 510 billion) Posco steel project, billed as the country's biggest foreign direct investment.


The role of Meena Hembram and 20 others came to limelight after the Meena Gupta panel, which submitted its reports to the union Ministry of Environment and Forest on October 18, pointed out that there were seven tribal families living in villages demarcated to house the 12 mtpa steel mill.


Meena Hembram is a ward member of Polang village under Gada Kujang gram panchayat, part of Posco's proposed plant site near Paradip.


The Forest Advisory Committee of MoEF had referred Posco case to the Ministry of Tribal Affairs for taking decision on the alleged violation of Forest Rights Act in the proposed plant site villages.


Claim of existence of tribal families in the proposed plant site area had emerged as a major hurdle before the state government, which strongly objected it at the FAC meeting held at Delhi on October 25.


"There was no tribal family living at the proposed plant site area," claimed chief secretary B K Patnaik admitting that some tribals were, however, in the locality.


Therefore, one should not conclude that FRA was
violated because some tribal families lived in the locality of the proposed steel plant area, said Jagatsinghpur district collector N C Jena.
Claiming herself as a supporter of the Posco project, Meena Hembram pointed out that residents of her village would not be displaced due to the mega steel project.


However, their betel vines would have to be uprooted to pave way for setting of the steel mill.


Meena's husband Rajendra Hembram and Narayan Murmu had already received compensation from the district administration for their betel vines located within the proposed plant site, said a senior revenue official.


Both N C Saxena and Meena Gupta committees probing into alleged violation of FRA at the proposed plant site, had already confirmed violation of forest rights of the people living in the area.


Posco project which was already running behind schedule in view of opposition from locals, was likely to be further delayed over committee reports and the issue being handled by one ministry after another, industry insiders feel.