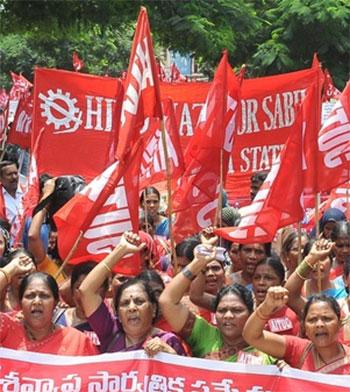 Trade unions said Jaitley's minimum wage announcement is completely inadequate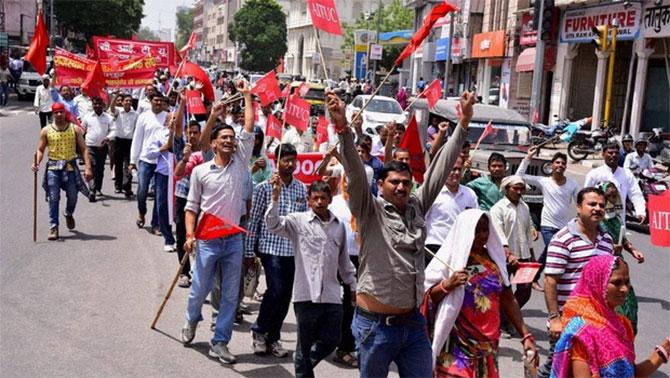 Trade unions, on Tuesday, said they will go ahead with nation-wide strike on September 2, rejecting as "completely inadequate" the government's 42 per cent hike in minimum wage to Rs 350 per day.
"The government's minimum wage announcement is completely inadequate. The strike stands and we demand they should enact a law to fix minimum (universal) wage," All India Trade Union Congress general secretary Gurudas Dasgupta said.
Earlier in the day, Finance Minister Arun Jaitley announced a slew of labour-friendly measures including hiking of minimum wage to Rs 350 a day for unskilled non-agricultural workers for 'C' category areas in central sphere.
Calculated monthly, it comes to Rs 9,100 minimum income (for 26 days) which is way below the unions' demand of Rs 18,000. Initially, the unions had demanded Rs 15,000 as minimum monthly income for daily wagers but the demand was revised after the government accepted the recommendations of the 7th Pay Commission.
Asked whether this will be a benchmark wage for the entire country, Labour Secretary Shankar Aggarwal said that this is for workers in central sphere and states can fix a minimum wage lower or higher than this rate.
Explaining further, Labour Minister Bandaru Dattatreya said that an amendment in the Minimum Wage Act is required for fixing a universal minimum wage and an initiative has been taken in this direction.
"Finance Minister's statement clearly shows that the government has not considered any of the demands in our 12-point charter. The unions have no other alternative but to fight for their rights," Indian National Trade Union Congress vice-president Ashok Singh said.
However, RSS affiliate Bharatiya Mazdoor Sangh has lauded the government's announcements and decided to abstain from the general strike on September 2.
"We welcome it and are satisfied by the increase in minimum wages. BMS will not participate in the strike," BMS general secretary Virjesh Upadhyay said.
Besides increasing the minimum wage, government has decided to pay bonus for 2014-15 and 2015-16 to central government employees based on revised norms. This will have annual financial implication of Rs 1,920 crore (Rs 19.2 billion).
It has also assured that the amendment in the payment of Bonus Act will be implemented strictly and it will support the cause of unions in high courts and the Supreme Court.
Dattatreya said that 97 cases regarding implementation of amendments in Payment of Bonus Act are pending in 14 high courts and the Supreme Court.
The government is trying to get stay orders vacated for implementation of the changes in Payment of Bonus Act, he said.
Of the 12 demands put forth by the trade unions, only 8 are related to labour issues and the government is working on seven of them, he added.
The government also said that it will issue advisories to states for ensuring completion of trade union registration within 45 days.
Jaitley said registration of contract workers and their staffing agencies is mandatory and states will be advised to strictly implement them.
Errant contractors will face appropriate action for violation of law, he warned.
The issue of giving social security benefit to the unorganised sector (like Anganwadi, mid-day meal, Asha volunteers) will be examined by a committee which will submit its report at the "earliest".
Asked about the strike call, Jaitley said: "I think we have responsible trade unions."
Photograph: PTI Photo