Expressing solidarity with agitating Maruti Suzuki workers, about a hundred protesters from various trade unions staged a demonstration outside Haryana Bhawan on Thursday, seeking the government's intervention for reversing the suspension and dismissal of workers by MSI.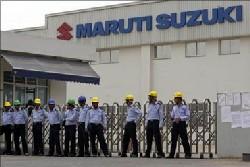 The development comes after talks brokered by the Haryana government between the management and workers at Maruti Suzuki India's (MSI) Manesar plant failed to end the 25-day-long standoff.

Protesters from the Mazdoor Ekta Kendra, Mazdoor Ekta Committee, Centre for Struggling Workers Trade Union, Krantikari Yuva Sangathan, All-India Federation of Trade Unions and Inqualabi Mazdoor Kendra, among other bodies, condemned the dismissal and suspension of 62 workers by MSI so far.

"It is illegal to force the workers to sign a bond before entering the factory. It is workers' democratic right to form a union and management should recognise it as per the Indian laws," said
Krantikari Yuva Sangathan Convener Alok Kumar.
The trade bodies will continue to protest till the management takes back all dismissed workers and revokes the suspension of others, he said.
The deadlock has been continuing since August 29, when the management prevented workers from entering the factory premises unless they signed a 'good conduct' bond, following alleged sabotage and deliberate compromise on the quality of cars being produced.
Meanwhile, the protesters have submitted a memorandum to Haryana Chief Minister Bhupinder Singh Hooda through the State Resident Commissioner, seeking his immediate intervention for restoring workers' right and rescinding the decision for suspension and dismissal of workers by MSI. As per information, MSI has dismissed 33 workers and suspended 29 so far.
Meanwhile, the New Trade Union Initiative (NTUI) has decided to hold protest demonstrations in front of Maruti Suzuki establishments in 12 locations across the country, including Delhi, Kolkata, Chennai, Mumbai, Nagpur, Assam, Chandigarh and Kochi.
© Copyright 2021 PTI. All rights reserved. Republication or redistribution of PTI content, including by framing or similar means, is expressly prohibited without the prior written consent.