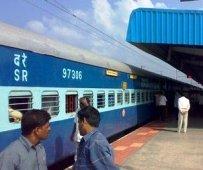 Privatisation may be a dirty word for Railway Minister Mamata Banerjee, but public-private partnership isn't. Indian Railways plan to allow private firms tobuild railway tracks in industrial zones.
Although a detailed blueprint is yet to be created, sources familiar with thedevelopments said companies would initially be roped in to augment the basic rail infrastructure in industrial areas such as mining zones.
The mandate could later be widened to include laying tracks for general passenger services.
"Possibly from the next (financial) year, railways will allow private companies tobuild rail tracks in and around industrial zones. Later on, depending on the response, their scope of work could be increased. But the details have not been worked out yet," a railway ministry source said.
For the railways, the initiative makes sense as Banerjee has resolved to build25,000 km of new lines by 2020, which translates into an average of 2,500 km of new lines per year.
The railway minister has admitted that constructing 1,000 route km this financial year would be a 'major jump' considering the 'limited resources' available.
This, however, would not be the first time that such a venture would be attempted. The port-side project under the Pipavav Railway Corporation Ltd -- a 50:50 joint venture of the railway minister and the Gujarat Pipavav Port -- has undertaken the construction, operation and maintenance of the 271-km-long broad gauge rail line between Surendranagar and Pipavav port in Gujarat.
Ministry officials feel this could be a template for future plans.
But with land acquisition continuing to be a volatile issue, more so considering Banerjee's opposition to forceful procurement, the involvement of private players in rail track laying could turn into a tricky affair.
On its part, industry has not ruled out the prospect of joining hands to develop basic infrastructure with railways. Instead, mining major Coal India -- which is reeling under the scarcity of rakes and an inadequate rail network across many of its operational areas -- is ready to collaborate but the usual glitches are evident.
"We are ready to invest (for rail connectivity projects) in places like North Karanpura (Jharkhand), which are crucial for our growth. But the work is progressing very slowly. Not more than 20 per cent of the land required for the projects have been procured," Coal India chairman Partha S Bhattacharyya said.
Interestingly, the timing of the proposed private participation into track laying, too, is of consequence. If introduced next financial year, it might allow Banerjee to evade further criticism of attempting to privatise the railways before the crucial Assembly elections in West Bengal next year.
In the meantime, private capital can continue making inroads into the railways through the construction of world-class stations, auto hubs, ancillary industries, manufacturing units of rolling stock, multi-modal logistic parks, high-speed train corridors, port and mine connectivity and multi-level parking, amongst others.