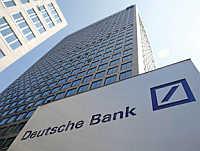 Government may find it difficult to achieve the revised fiscal deficit target of 5.3 per cent in 2012-13 as fiscal measures may fall short or prove to be too late amid weak revenue trends, a Deutsche Bank report said.
"Fiscal measures may fall short or prove to be too late to achieve the revised budget deficit target of 5.3 per cent of GDP for FY13," it said.
Last month, the government had revised fiscal deficit target to 5.3 per cent from the budgeted 5.1 per cent for this financial year.
"The monthly trend of revenue and expenditure are not promising...and we are not convinced if sufficient steps have been taken to prevent the deficit from exceeding the budget target (5.1 per cent of GDP) by about 0.50 percentage point," the report said.
"We don't think the deficit is heading (to) six per cent any longer, but we are not expecting it to be in the low five per cent of GDP,"
it added.
Referring to indirect taxes, the report said that while budget assumed indirect taxes to grow by 28.7 per cent year-on-year in FY13, they have grown by only 14 per cent in the first half of this fiscal.
It also said that achieving Rs 30,000 crore (Rs 300 billion) disinvestment target would be challenging this financial year. The report, however, pointed out that the measures taken with regard to fuel price, expenditure control and raising of non-tax revenue from disinvestment and 2G spectrum auction are steps in the right direction.
The report also said that wholesale price index based inflation is likely to be above 8 per cent in the coming months on the back of rise in food prices.
"Our analysis also shows that inflation momentum remains strong, even beyond the fuel price adjustment related rise in prices seen in September," it said adding though inflation could ease in the future, the evidence of such a respite is scant at this juncture.