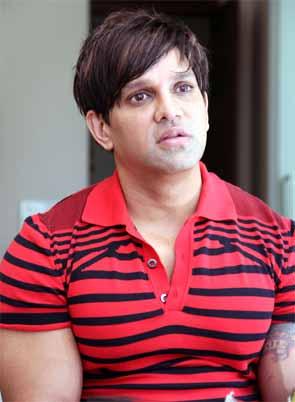 Yashovardhan Birla, chairman of the Yash Birla Group, had a lively interaction with rediff.com readers when he hosted an exclusive chat on Tuesday.

A tragic twist of fate handed Birla a vast empire of companies, when his parents and sister died in a plane crash in Bangalore. He was just 22 years old and still a student in a college in North Carolina, USA.

During the chat, Birla discussed how he fights troubled times, his deep belief in spirituality and his faith in true love.

Here is the transcript:
Yash Birla: Hi folks, I am Yash Birla here, it's great to connect with all of you. Hope you'll enjoy reading my book, On a Prayer. Let's chat about it
suryakant agrawal: How was your spiritual journey. What was experience. Did you face the truth...
Yash Birla: Suryakant, truth is a realisation at every step of your spiritual evolution. The ultimate truth is experienced only when you as an individual don't exist, where our ego dissolves and our consciousness merges with the universal spirit. Which is the goal of every human existence
DR Gupta: Spirituality has no concern with wealth.We can centered our aim towards human beings.The image of Birla has always been seen since pre independence.I think Mr. Yash will carry on his legacy towards the path of Shri G.D.Birla.God bless this boy.
Yash Birla: Thank you so much for your kind words, and I definitely believe in your thoughts and hope to carry forward my family legacy to the best of my abilities
computergramm: ARE YOU SATISFIED WITH YOUR VISION OF EDUCATION FRENCHISEE U VE GIVEN IN DIFFERENT STATE ESPECIALLY IN bIHAR? 1. ARE FRENCHISEES PROVIDING QUALITY EDUCATION EXACT WHT U DID LOOK FOR?
Yash Birla: I believe education is something that shapes the future, and it's very important that children learn things the right way. Not only academically but to evolve as socially responsible citizens, adhering to our cultural ethos where they can genuinely feel contented of contributing something to the world. I believe these philosophies should be entwined in our educational curriculum.
sumeet salgaonkar: Do you feel that had you been groomed properly to take over the vast business of your father, you would have done a better job?
Yash Birla: Sumeet, surely education, experience, formal training do help in sharpening one's business acumen. Though circumstances sometimes make it impossible for you to complete the education and training which you thought was necessary and required. However, no regrets, I have done things to the best of my ability.
Vipin Dwivedi: What is about BIRLA Power share??
Yash Birla: Vipin, there is no ideal body. Your personal goal should be to keep improving your physique where you should never let it stagnate or deteriorate. And that's an ideal body for me
Venkatesh: Recently, it has been tough time for you. How to face such setbacks?
Yash Birla: Venkatesh, tough times are opporunities to learn, introspect, and move ahead. Every crisis has an opportunity within it, every problem has an opportunity hidden within. It's for us to accept the learning and execute it to the best of our abilities
sumeet salgaonkar: How does spirituality help build balances in life
Yash Birla: Sumeet, spirituality is the foundation of everything in life, once that is the truth everything else balances itself. You don't have to change anything, you have to look at every thought and action introspectively, whether you are doing something positive or beneficial only for yourself or whether you are contributing to a higher purpose.
rekhamatapati: you are so good
Yash Birla Thank you so much for your kind words
gaytriverma: dear yash i pray the god for your coming future
Yash Birla I thank God for your kind wishes, all the best!
DIWAKAR RAO: BIRLA'S ARE BETTER THAN AMBANIS SO FAR AS CHARITY IS CONCERNED
Yash Birla Diwakar, true charity is something which you yourself should never discuss. But thanks for your kind words
tvijay: HI
Yash Birla Jai Shri Krishna, to you and all the others saying Hi:))
Ajay Sharma: Dear Yash, It is good that you are looking towards Spirituality. But, do you think that Spirituality is about knowing others and what has happened OR about knowing oneself? What has been your road so far?
Yash Birla Ajay, it's only about knowing yourself and not at all about thinking about anybody else. That's the core of spirituality.
Ashish L: Hi Yash, Can you give some insigt about your book "On a Prayer".. The title sounds to me, on a hope... Would be glad to know :) Regards, Ashish
Yash Birla Ashish, the book is about my journey in life uptodate and to me every individual's journey should be like a prayer to the divine
Yash Birla And that's what I make every day of mine
ulfat: How to handle marital discord using spiritualism? How can it help to lead a wholesome life?
Yash Birla Ulfat, marriage is an opportunity to dissolve your ego as every marriage requires adjustments. As long as the adjustments are selfless and on right virtues, you evolve into a better person, your commitment to marriage tests your willpower which ultimately helps you achieve your spiritual goals. Marital discord requires adjustments and as long you are doing the right thing it will give satisfaction
Jitendra: Dear Yash, me& my wife have always read your articles in news paper,because of your quite good personality and also impressed of your belief in spirituality. Really we are surprise about the way of your life. God Bless you.
Yash Birla Jitendra, thank you for your very kind words, may God bless you all as well, Jai Shri Krishna
Satish Pulli: What was the process of writing the book like? Was it a cathartic experience in any way?
Yash Birla Satish, the experience was joyful as I always like to speak the truth from my heart and that's what I have done in this book.
ulfat: Could you tell us ten spiritual mantras you follow in times of distress and hopelessness?
Yash Birla Ulfat, patience, acceptance, faith, introspection, meditation, right actions, compassion, charity, prayer, and surrender to the divine are the 10 you asked me about
Jeswal: What is your best spiritual experience? Could you please share it with us?
Yash Birla Jeswa, there's no best spiritual experience, every spiritual experience is as good as others. The idea of spiritual experience is don't judge, it, don't compare it, and don't try and put it into words, as a true spiritual experience is something that cannot be explained
dananjaypuri: Dear Yashji, why didn't you join Bollywood. You look so sexy and handsome. :)
Yash Birla Dananjaypuri, thanks for your very kind words. I never say never, maybe:)
Rajan sha: Mr. Birla you are a fitness freak. Any plans to launch something in that field?
Yash Birla Rajan, we have protein supplements under the brand name BCube. And we have ayurvedic therapies in centres under the brandname Birla Kerala Vaidyashala. And we have Birla wellness centres, the main one in Fort, Mumbai, which integrates all health and fitness aspects. We also have MMA classes in our premises under the brand name of Dojo. We have a personal training studio, XL gym
Yash Birla Apart from these, there's more to come, just stay tuned:)
prashant ranade: Sir, you talk about spirituality but you seem to have lost your connect with reality. Come back to the real world and carry forward the good work that Ashok Birlaji did. Please just dont shut down all the business that you inherited.
Yash Birla Prashant, spirituality doesn't take you away from reality, it makes you accept the reality more realistically. At no point of time spirituality takes you away from your karma, which is to steer your enterprises towards prosperity and so is my belief and my endeavours
Vinayak Tavade: I want to believe in my spirituality and the idea that I can revel in God at any turn and in any place.
Yash Birla Vinayak, that's the truth and you seem to be very close to it
suryakant agrawal: Everything happens for a purpose in Existence. There was not way of my reaching you otherwise and you are here. Please receive my final thanksgivings for my first job. It was most challenging and fulfilling period of my life. I am done with these memories today.
Yash Birla Suryakant, thank you for the kind words. It's good to interact directly in this manner. Jai Shri Krishna
Nitin Deshmukh: spirituality is how you measure your grace of god, health, wealth, attainment etc.Only yardstick is sense control
Yash Birla Nitin, sense control enables you to have that ultimate experience. When you stop being attached to external experiences is when you experience the within, the divine. So what you speak is true
raghu nsk: This is for your information that my father was admitted last jan'2014 in sujata birla hospital nasik and there wes no any positive response from staff, doctors and excess billing and for some injured we are staying 12 days.. I am 100% sure you are not aware for this and request you to please look into it.
Yash Birla Raghu, I shall surely do so, thanks for bringing this to my notice.
kavita bavekar: how do you deal with criticism?
Yash Birla Kavita, by accepting it and if it has some logic try and improve things within yourself and your deeds. And be grateful to that person for helping you do it. You do the right thing this way
Vishal Deshmukh: Yash do u think theres true love remains in peoples heart ?
Yash Birla Vishal, every heart in reality is only true love. Our perceptions are untrue and our perceptions are based on ego. If we remove those imperfections what remains is true love and nothing beyond
Yash Birla: Folks, it's been wonderful chatting with all of you, thank you for taking time off your schedules to be here. Jai Shri Krishna!
Image: Yash Birla; Photograph: Uttam Ghosh/Rediff