Economic Affairs Secretary Subhash Garg is the finance ministry's primary liaison with the RBI.
Arup Roychoudhury reports.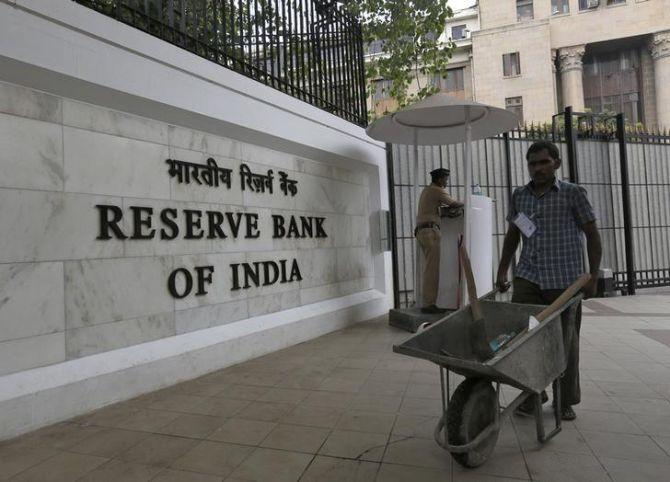 A top civil servant has made a subtle comeback at Reserve Bank of India Deputy Governor Viral Acharya's warning that governments that interfere with central banks suffer the 'wrath of the markets'.
'Rupee trading at less than 73 to a dollar, Brent crude below $73 a barrel, markets up by over 4 per cent during the week and bond yields below 7.8 per cent. Wrath of the markets?' Subhash Chandra Garg, secretary in the finance ministry's department of economic affairs, tweeted on Friday, November 2.
'Wrath of the markets?' is a direct reference to Dr Acharya's statement last Friday. Dr Acharya had on October 26 delivered a scathing speech seeking more independence for the RBI. He said governments that did not respect their central bank's independence would sooner or later 'incur the wrath of financial markets, ignite economic fire, and come to rue the day they undermined the regulatory institution'.
He had said the central bank must have more powers to supervise public sector banks, and keep its balance sheet strong, apart from adequate regulatory scope.
This independence, he said, was necessary to secure greater financial and macroeconomic stability.
Since then, several reports have said the Centre in three strongly worded letters referred to Section 7 of the RBI Act, which allows the government to issue binding directions to the central bank as it may 'consider necessary in public interest'.
The three letters in recent weeks are said to have been drafted by Garg and touched upon contentious topics.
These include the government's demand that RBI transfer as much as Rs 3.6 trillion worth of excess capital as surplus to the Centre, that it eases prompt corrective action rules in line with global norms, and that it gives some breathing space to power sector non-performing assets so as to prevent several of them going into bankruptcy proceedings.
There were reports that RBI Governor Urjit Patel would resign if the government invoked Section 7.
That situation seems to have been avoided for now as Dr Patel has called a board meeting of the RBI on November 19. Garg and Financial Services Secretary Rajiv Kumar are the finance ministry's representatives on the RBI board of directors.
Finance Minister Arun Jaitley does not communicate that frequently with Dr Patel and the deputy governors of the RBI. However, he is known to share a cordial relationship will all of them.
Informal channels of communication, which have always existed between North Block and Mint Road, are currently handled primarily by Garg and Kumar.
The buzz in bureaucratic circles is that whether through written communication or these informal channels, instead of negotiating on contentious issues, North Block tried to force its writ upon the central bank.
That may have prompted Dr Acharya to make a fiery speech last Friday.