The recent fall in commodity prices might not be sufficient to bring down the country's widening current account deficit (CAD). Experts say more is needed for a significant change in this regard.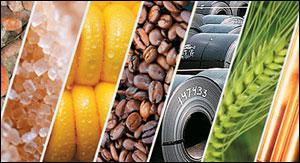 The Reserve Bank of India (RBI) views the high CAD as a key challenge. RBI Governor D Subbarao said earlier in April, that the CAD for the financial year which ended on March 31 was unlikely to be less than 5 per cent of gross domestic product (GDP).

"It is too early to say if these price trends will sustain," said A Prasanna, chief economist, ICICI Securities Primary Dealership. He believes the CAD for 2012-13 would be five per cent of Gross Domestic Product (GDP) and for the current year, 4.1 per cent.

CAD rose to a record high of 6.7 per cent of GDP in the December quarter, on account of heavy oil and gold imports, besides muted exports. It was 5.4 per cent in the previous quarter and 4.4 per cent in the third quarter of the previous year.

In the mid-quarter review of monetary policy on March 19, RBI had said, "Risks on account of the CAD remain significant, notwithstanding likely improvement in the fourth quarter over an expected sharp deterioration in the third quarter of 2012-13." In fact, economists feel the fall in prices of the yellow metal would lead to more buying.

"For FY14, our CAD assumption is four per cent of GDP and we have not changed it so far, as we believe the volume of imports, especially gold, might not fall as sharply. The fall in prices of gold will result in buying opportunity," said Radhika Rao, economist, DBS Bank.

There are others who do not expect significant improvement in exports. "I am not expecting any huge improvement," said Rupa Rege Nitsure, chief economist, Bank of Baroda. However, some economists are optimistic about narrowing of the CAD.
"We estimate that the recent fall in gold price will likely reduce India's gold import bill by $8 billion through an immediate price effect and additionally due to a volume effect. Likewise, we estimate that every $10 per barrel fall in oil price lowers India's net oil import bill by $9 billion," said Sonal Varma of Nomura, in a report on Monday.

According to Varma if commodity prices are sustained at on Monday's lower levels, the CAD could improve by around one per cent of GDP to 4.3 per cent in 2013, from a base case of 5.3 per cent.