The telecom company, which has a licence to start a payments bank, can leverage its wide distribution network.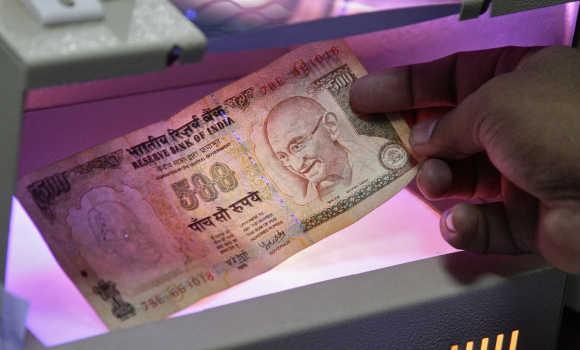 Access to formal banking remains a pipe dream for a large number of Indians: less than five per cent villages in India have banking outlet; for 1.2 billion people, there are only 127,343 bank branches and just a little over 180,000 ATM points.
In contrast, telecom companies have spread their tentacles far and wide to cover over 900 million customers.
Soon, their vast network of distributors and agents will help them deliver financial services too - and many telecom players will morph into payment banks.
While some are relatively new in this business, Vodafone, which has 1.8 million touch points in the country, has been offering basic banking and payment services through its pre-paid mobile digital semi-closed wallet called M-Pesa since 2012.
Its suite of services includes money transfer, digital payment and deposit and withdrawal of cash.
For long, large banks have contemplated entering into a partnership with telecom players to ride on their network to service rural customers.
But these partnerships could never take off as the banks were not willing to share the spoils even though it would've improved their reach. Payment banks like M-Pesa will lead to a much higher level of financial inclusion.
A pan-India presence has helped Vodafone gain deep insights into the habits of consumers, which it intends to leverage in the coming months. KPMG believes payments banks will revolutionise financial services by focusing on volumes over margins.
Back in 2012, when Vodafone received the licence for a pre-paid mobile wallet from the Reserve Bank of India, the lure was the money transfer market (money sent home by migrant workers), estimated to be Rs 200,000-300,000 crore each year. Nearly 50 per cent of this was routed through the unorganised channels, as the bank footprint was poor.
Along the way, M-Pesa has done a lot more than help migrant workers transfer money to their families back in states like Bihar, Uttar Pradesh, Rajasthan and Madhya Pradesh; by partnering with ICICI Bank, it also emerged as the country's largest banking correspondent with 90,000 agents (with 60 per cent rural penetration).
M-Pesa has 3 million customers using the wallet already, through which money is transferred to banks and mobile phones and payments are made for services.
Vodafone pads up for innings in banking "We have a presence in 1.8 million multi-brand outlets across India apart from our 98,000 Vodafone stores and 90,000 M-Pesa outlets, which has given us a good understanding of consumer behaviour," says Vodafone M-Pesa Business Head Suresh Sethi.
"By linking our digital wallet with a banking business correspondent model through our partnership with ICICI Bank, we understand both the cash-in and cash-out model."
Expanding its ambit
By the time M-Pesa is reborn as a payments bank, all these 98,000 outlets will function like bank branches where consumers can deposit money into accounts, receive cash against digital money received on their phones and get access to other products like loans and insurance. Payments banks cannot lend directly to customers but can have relationships with others to offer such products.
So how will these accounts work? These accounts will be like any other bank account. However, the amount of money depositors can keep in these accounts is capped at Rs 1 lakh.
Consumers can spend, make payments and send money to people in other parts of the country.
M-Pesa will charge 1-1.5 per cent for money transfer and other similar services. Given that this would be a volume game, margins would be thinner than those enjoyed by traditional banks.
The new age consumer is ever connected through the mobile phone and will thus demand services through the same.
While rural consumers will want access to basic banking services, the urban consumer will want more convenience and innovation as far as payment platforms are concerned.
One risk to this model would be low levels of adoption, given that scale is going to be critical for this business.
It's for this reason that Vodafone has been carrying out pilots across India. In Haryana, M-Pesa has partnered with the government to transfer pension money to retired government personnel through the mobile phone. In Rajasthan, M-Pesa has tied up with Rajasthan Aajeevika Vikas Parishad to help women's self-help groups.
The platform is not just used to make payments and disburse loans, but also for credit rating. As payments banks roll out operations pan-India, disbursals will become faster and credit rating will enable better credit quality.
Industry experts, who have seen consumer behaviour at the traditional banks and new age entities like mobile wallets, believe that the new age bank account will be very different from the traditional banks, as urban and rural consumers will demand different kinds of services from these banks.
Their success depends on how these payments banks are likely to deliver upon these expectations.
WHAT VODAFONE NEEDS TO DO
Tech-savvy urban consumers
Secure well-encrypted payment platform
Create compelling reasons for customers to use digital money, especially in person-to-person payments & person- to-merchant transactions
Customise merchant offers — online & offline — based on transaction history
Offer product add-ons like cash back and discounts to woo users
Create visual tools for customers to track their spending
Unbanked rural population
Provide access to basic banking services
Ensure payment platform is simple, with an option of multi-lingual interface. Tie up with governments for transfer of funds to increase transactions
Create simple & dedicated domestic remittance platform
Educate customers to increase usage and adoption of digital payment platforms
Have a system for on-boarding of small retail merchants on the mobile payment ecosystem to facilitate digital payments