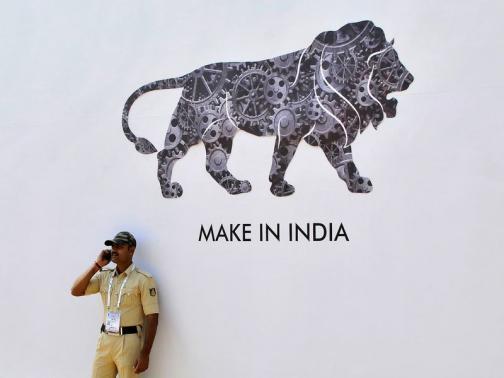 Thrust on technology and product development is crucial for government's 'Make in India' initiative as without it India can never become a "true manufacturing nation", according to a top Mahindra executive.
"If Make in India has to succeed, we also have to have thrust on technology and product development. Without having our own technology and products, one will never become a true manufacturing nation," Pawan Goenka, Executive Director and President (Automotive and Farm Equipment sectors) at Mahindra told PTI here.
Goenka said that the Indian auto major is "very passionate" about the 'Make in India' initiative and is glad that Prime Minister Narendra Modi is putting thrust on growing manufacturing in the country.
He said unless equal push is given to boost technology and product development, a nation will remain a subcontractor for somebody.
As a subcontractor, the focus is on labour cost arbitrage and that is not sustainable.
The top Mahindra executive said the previous government's target of 25 per cent GDP coming from manufacturing by 2022 was a "far cry" since to achieve that, manufacturing has to grow at 14 per cent per year with a GDP growth of eight per cent for the next 8-10 years.
He said the 'Make in India' cannot be just about manufacturing and for the concept to succeed, the government also need to have technology and brand thrust.
"The Indian brand outside India for manufactured products is certainly not an aspirational brand in any product that you can talk about.
How do you make an Indian product aspirational, how do you make Make in India something that you would want to buy because it is developed in India and not because it is low price," he said.
A 360 degree thrust has to be given to manufacturing goods in the country, Goenka said. He said that the ensuring ease of doing business in India is also not enough since this alone is not sufficient to get to 'Make in India'.
"Make in India has four components," he said, highlighting that it entails Indian companies making in India for domestic market and exports and MNCs making in India for the domestic market and exports.
"Each of these four dots require a different thrust and actions to get each one of these to succeed. We need to keep that distinction in mind as we make our policies to promote Make in India. it will require tremendous effort from everyone concerned," he said.
Noting that India needs to increase its share of having more MNCs based in the country and manufacturing for exports, Goenka said India's share is very small as compared to China.
"India's volume right now is very small for a country of India's size. India's manufacturing by and large is happening for Indian markets. If you want to be called a manufacturing nation, there has to be a lot of manufactured product export from India. We have fallen short of that," he said.
Goenka said for Mahindra to participate in the Make in India drive is "very natural" and "we would be delighted if Indian manufacturing comes to age and becomes known globally, not just for low cost goods but for quality and technology as well." On the company's plans for the US market, he said Mahindra "continues to have aspirations" to bring its automotive products into America.
"We are looking at the right products and the right timing," he said adding that it is looking at products of its South Korean arm Ssangyong coming into the US.
"It might happen that Ssangyong will come into the US before Mahindra does," he said.
© Copyright 2022 PTI. All rights reserved. Republication or redistribution of PTI content, including by framing or similar means, is expressly prohibited without the prior written consent.