My company revolves around design and travel. The concept is that we take the old, use the power of design and make it a lifestyle product: Ananya Birla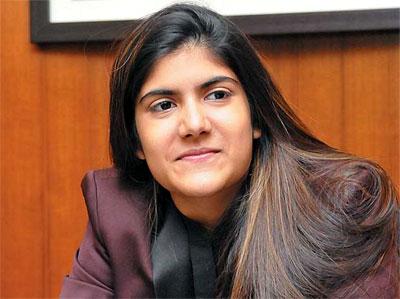 It took someone from Ananya Birla's team three hours to trek to a village in Kashmir to recover a rare and lesser-known handicraft product. Soon, the product would be available for the world to see and buy on the e-commerce platform to be launched by the Birla family scion in May.
The 21-year-old founder and CEO of Swatantra Microfinance and daughter of Aditya Birla Group chairman Kumar Mangalam Birla has been working on sourcing inaccessible handicraft products from around the world to cater to the premium segment.
It all started when she went to France on a break. "I saw a woman doing some lace work in Paris. There was a crowd of people around her, watching her work. No one made any effort to buy anything from her because it wasn't very good. But her talent was visible. People like talent," she says. And that's when she came up with the idea of a unique e-commerce platform.
"My company revolves around design and travel," she says. "The concept is that we take the old, use the power of design and make it completely new and user-friendly so it can be used as a lifestyle product."
Ananya would not reveal details of her venture. Even the name of the e-commerce platform remains a secret. All she tells you is that no company in the world is doing what she is attempting.
When prodded, she gives an example. For instance, the company may source a product from the jungles of Cambodia. "When the product is brought to India, it looks very average. Then we think along the lines of what are the properties of this product. We then transform it to something that can be useful. So, if we get some silver carvings, we may transform it into a small box that you gift your grandmum," she says.
The products will be in the higher price bracket.
"We predict the average ticket price to be Rs 11,000-12,000," says Ananya. Along with India, the company plans to target the US, UK, UAE, France and Germany.
It's tough to play the volume game in handicrafts business. But Ananya won't call it niche. "Our products are very premium. Everyone may not be interested in it but it isn't niche," she says. Ananya has built everything from scratch. When asked, why she is not using the massive sales and distribution channel of the Aditya Birla Group, she insists that she wanted to build a brand on her own.
In fact, she had been told by an advisor that such an idea would be difficult to pull off. But Ananya looks set to prove him wrong. However, setting up a new brand comes with pitfalls. As the price bracket rises, pulling in customers in a value-conscious country like India means giving away discounts. But she won't take that route either.
"There will be some offers but we won't be playing the discount game," she says with complete confidence in her offerings.
Ananya is preparing a channel to fund her fledgling e-commerce brand. She has taken a leaf out of Amazon and Flipkart's playbook and is setting up a B2B channel that will not only bring her volume but also margins.
"We will have a B2B part of the business where we will deal with hotels, restaurants and cafes and sell them our products, which will help us bridge the gap. My old school, for example, could easily be interested in crockery we sell," she said.
The company, she says, will break even in five years and she won't approach investors for the first two years. The plan is to market the product digitally initially before any traditional medium. Sourcing the products will be tricky and she understands that the lead time will be significant.
"It is all about strengthening the supply chain and adding more suppliers right now," she adds. The website, she says, will go live with 70 categories and 1,500 products. To get this going, she has started hiring. "We picked up seven people from IIM-Indore and will make a few more hires from design schools in March," she says.
Even the newly hired employees don't know everything about the venture, Ananya says with a mysterious smile.
Photograph, courtesy: Business Standard