Around 7 billion units of coal power valued at Rs 2,400 crore lost due to drought, says Greenpeace report.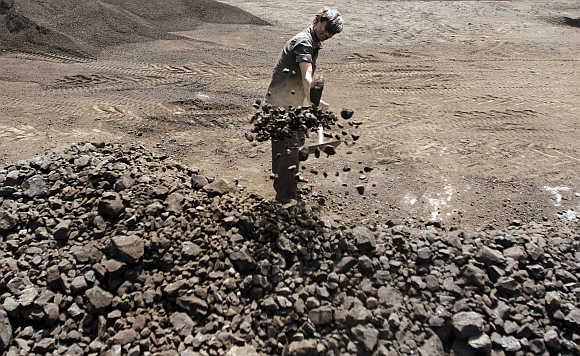 The water scarcity crippling large parts of India has already cost coal power companies nearly seven billion units in lost electricity generation, with an estimated revenue loss of Rs 2,400 crore (Rs 24 billion) in the first five months of 2016, says Greenpeace India, the ecology group.
In a report issued on Thursday, it said water shortages had led to coal-power plant shutdowns in West Bengal, Karnataka and Maharashtra.
NTPC, Adani Power, GMR, MahaGenco and Karnataka Power Corporation are among the companies affected.

Most of the losses were between March and May, with plants unable to operate due to a lack of water for cooling.
Greenpeace India executive director Ravi Chellam said, "The coal power sector is already a water guzzler, consuming 4.6 billion cubic metres a year. Water, that could have met the most basic needs of 251 million Indians. The expansion of coal power will increase air pollution and deforestation; data show us it will also worsen the water crisis, posing serious financial risk to lenders and investors in these projects."
The report, he said, was based on daily outage reports from the Central Electricity Authority and right to information replies from NTPC, the thermal power major.
The findings were independently reviewed by equity analysts at research entity Equitorials.
Equity analyst Jai Sharda, founder of Equitorials, said: "It's clear that water scarcity can have a real impact on the profitability of coal power projects. Project lenders and shareholders alike should look carefully at this. The sector cannot afford more stranded projects or non-performing assets."
According to the report, repeated shutdowns at NTPC's Farakka thermal plant between February and April resulted in lost generation of about a billion units of electricity, translating to lost revenue of Rs 390 crore.

Shutdowns at Adani's Tiroda power plant in Maharashtra last month have cost the company 570 million units of electricity, with a value of nearly Rs 200 crore (Rs 2 billion).
For most of May, a little over four gigawatt of coal-fuelled power generation was shut, due to unavailability of water.
The Greenpeace report includes case studies of two regions where water scarcity poses a financial risk to new coal plants, Solapur in Maharashtra and the Krishna basin in Karnataka.
NTPC's Solapur power unit faces commissioning delays due, in part, to uncertainty over water supply.
In the other region, NTPC's Kudgi unit and KPC's Raichur power plant were affected by lack of water this summer. And, more coal plants are being built in the water-stressed regions.
THE GREAT WATER GRAB
Cooling technologies of coal power plants have different water demands.
Globally as well as in India, cooling technologies used by coal power plants fall into three categories:
WET-RECIRCULATING OR CLOSED-LOOP SYSTEMS reuse cooling water in a second cycle rather than immediately discharging it back to the original water source.
This is the predominant choice of cooling system globally, used in approximately half of the coal fleet.
A 500 Mw, sub-critical coal plant would withdraw around 10 million cubic metres and consume 8.4 million cubic metres of water per year
ONCE-THROUGH COOLING SYSTEMS take water from nearby sources (rivers, lakes, aquifers, or the ocean), circulate it through pipes to absorb heat from the steam in systems called condensers, and discharge the now-warmer water to the local source.
This kind of cooling system is commonly found in coastal plants (using seawater for cooling), older inland plants, or where there is an abundant and reliable supply of freshwater.
A 500 Mw, sub-critical coal power plant would withdraw around 500 million cubic metres and consume 2.9 million cubic metres of water per year
DRY-COOLING OR AIR-COOLED CONDENSERS use air instead of water as a medium to remove heat from the vapour-to-liquid condensation process.
Power plants with dry-cooling still use significant amount of freshwater for scrubbing off air pollutants.
This amounts to 20-25% of the typical amount water demand of recirculating wet cooling.
A 500 Mw, super critical coal power plant would withdraw around two million cubic metres and consume 1.7 million cubic metres of water per year

Source: Greenpeace India