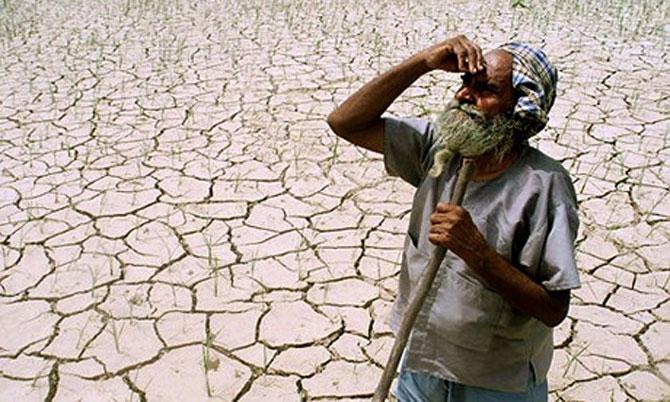 Farmers don't end their lives because of a season or two of bad rain. It is because of harassment, corruption and the burden of compound interest for years that they take this route
Vedram Gangwar, 52, suffered losses of about Rs 10,000 after untimely rain in March destroyed the wheat crop on his farm of less than a hectare in Hurhri village, Bareilly. One morning, he went out of his house and didn't return. His family found his body hanging from a tree barely a few feet from their unplastered house.
Gangwar is survived by an uneducated wife and four sons. The eldest is a first-year college student, while the youngest is in standard III. Gangwar left them an unpaid bank loan of Rs 500,000 and another debt of Rs 250,000 from a moneylender. The family's assets include a buffalo and a two-room scantily appointed house, with no electricity connection.
"He had not paid the bank in the past two to three years. He was under immense pressure after the bank issued a notice to auction the land to recover dues," says Atul Gangwar, the eldest son.
"This year, we were hopeful of a good yield that would feed us for the rest of the year. But the rains destroyed everything," he says. Atul will have to quit his studies to support the family. He is running from pillar to post, seeking compensation announced by the state government.
Farmers such as Gangwar don't end their lives because of a season or two of bad rain. It is because of harassment, corruption and the burden of compound interest for years that they take this route.
A farmer usually begins this perilous journey after taking a loan against his land, his only source of income. Though loans are usually provided at an interest of seven per cent a year to buy fertilisers and seeds, many farmers divert the money towards other purposes, including paying for dowries, the education of their children and medical expenses.
The interest on a farm loan is lower than on other loans; the state further offers subvention of three per cent if the loans are repaid within the financial year.
Jaipal Singh, assistant manager at a Prathama Bank branch in Moradabad district, reports that of the nearly 100,000 bank customers in the surrounding 16 villages, almost every farmer has taken a loan from his bank. The loan amount is decided on the recommendations of a technical committee headed by the lead bank in the district.
For instance, the bank offers Rs 45,000 a hectare for sowing wheat and paddy and about Rs 100,000 for the cultivation of sugarcane and potato.
Since most of the farmers do not hold much land, their loan amounts range between Rs 30,000 and Rs 250,000.
"Our recovery rate is 75 per cent. We ask the district authorities to recover dues from defaulting farmers. The district is paid 10 per cent of the recovered amount," Singh says, adding bad debts have risen following the failure of the crop this year.
Singh says banks do not pressure farmers to pay loans, but this isn't the case across the state. For instance Shishu Pal, 55, a resident of neighbouring Bareilly division, consumed poison after a state government employee repeatedly harassed him over pending bank payments.
In his suicide letter to Uttar Pradesh Chief Minister Akhilesh Yadav, the deceased requested a waiver on the interest and sought strict action against the employee.
The victim's family says he had taken a loan of Rs 33,000 from the bank in 1995. "Against this loan, we have already paid Rs 74,000 and still owe another Rs 50,000. This is because we could not repay the loan on time," says his son Satya Prakash, looking away in the distance.
Many farmers across the villages of Bareilly and Moradabad had similar difficulties in getting a loan approved. One reason for this can be explained by a 2014 study titled Bank Credit to Agriculture in India in the 2000s: Dissecting the Revival, by R Ramakumar and Pallavi Chavan from the Tata Institute of Social Sciences. The paper, which analyses the exponential growth in agriculture credit between 2000 and 2011, shows the share in total direct loans of less than Rs 200,000 fell from 92.2 per cent in 1990 to 78.5 per cent in 2000 and 48 per cent in 2011. In other words, the bulk of loans advanced for agriculture moved away from small, marginal and medium farmers towards large business interests.
Moreover, monthly data showed that 46 per cent of farm credit was availed of between January and March every year, a period when there is minimal farming across the country.
For some villagers, inability to obtain loans is mainly due to corruption in banks.
"I was made to wait for six months before the bank approved Rs 10,000, against the required sum of Rs 25,000. The bank manager didn't approve it until I paid Rs 300 as bribe," says Balwant Singh, a marginal farmer in Takhatpur Hasha village.
The delay in bank loans compels farmers to move to private money lenders, who charge five per cent interest a month.
For their part, the banks say they are urging leniency. "In the current situation, when crops have been damaged by rain and hail, directives have been issued to regional rural banks and others to convert short-term crop loans into medium-term ones (those with a period of at least 18 months) and defer their recovery. Term loans will also be restructured, making farmers eligible for fresh loans," Harsh Kumar Bhanwala, chairman of National Bank for Agriculture and Rural Development, told Business Standard.
Crop insurance and compensation
The efficiency of dispensing compensation is inevitablybeing criticised. On April 6, the Uttar Pradesh government, in a press statement, said it had estimated crop losses of Rs 870 crore (Rs 8.7 billion) in the first round of a survey. The government announced compensation of Rs 500 crore (Rs 5 billion) and requested the Centre to provide another Rs 744 crore (Rs 7.44 billion) for relief. The opposition Bharatiya Janata Party said the state government is cheating farmers by giving them cheques for as little as Rs 75.
The state might increase the compensation amount, following the Centre raising it by about 50 per cent, but farmers say more than the amount announced, it is the process of computation that is questionable.
"The lekhpal (junior revenue officer) sends his report on crop damage to district authorities without actually visiting farms. He prepares his report by asking either the local MLA or the village headman. In this process, only favourites receive compensation and we are paid paltry amounts," says Khilander Singh, a quarter of whose standing crop was ruined by rain and hail.
When asked about crop insurance, most farmers said they were unaware of it.. "First, we don't know who to approach for crop insurance and second, we don't have spare money either," says Dharam Pal Singh of Qutubpur Ajjo village. His brother committed suicide by jumping in front of a train.
In a recent article in The Indian Express, eminent agriculture economist Ashok Gulati said that until 2012-13, less than five per cent of farmers had availed of crop insurance. He said inadequate coverage (around 15 million hectares of the gross cropped area of about 140 million hectares in a season) and high insurance premiums were responsible for such abnormally low coverage.
A study by the Associated Chambers of Commerce and Industry of India and Skymet confirms this.
"A very large proportion of 81 per cent were found to be unaware of crop insurance. Only 11 per cent felt they couldn't afford to pay the insurance premium," the study said.
Also, it is difficult to claim insurance on loans taken from banks. Zulfikar Hussain, field officer at Prathama Bank, says only 2.5 per cent of the loan amount was reserved for crop insurance. "A farmer is not given insurance unless damage in the subdivision (of a district) is determined to be 80 per cent," he says.
Last month Hussain and his colleagues completed the compensation for the paddy crop that had suffered in a drought last year. For 0.154 hectares, the bank settled claims of Rs 920.31 and for 0.752 hectares, the assured amount was Rs 4,493.98. "It takes six months to process the claims," he says. The latest government order directing insurance companies to process claims within 45 days of a disaster seems far-fetched.