'The number of first-time investors into MFs can grow four times more than the current rate if we are able to accept the bank KYCs.'
Illustration: Uttam Ghosh/Rediff.com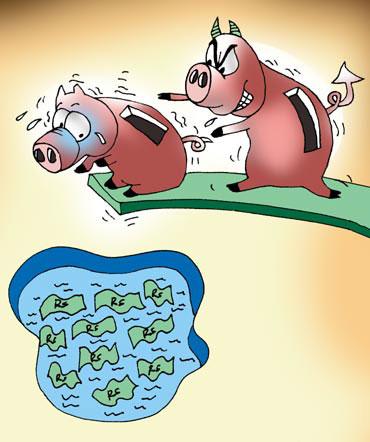 Nimesh Shah, managing director and chief executive officer, ICICI Prudential Mutual Fund, is optimistic about the equity markets for 2017, though he sees continued volatility, he tells Sheetal Agarwal.
What is your equity and debt market outlook for 2017?
What is your advice to retail investors?
There is a clear case to invest in equities from a two year view. However, the one constant through this duration would be volatility.
The leveraging cycle will pick up, coupled with improved capacity utilisation by companies, eventually leading to improvement in earnings.
To make the most of intermittent volatility and the expected improvement in markets, we'd advise retail investors to consider investing in dynamic asset allocation funds.
This will help investors benefit from the opportunities available across equity and debt asset classes.
On the debt market, most of the fixed income rally has already played out and returns might moderate from here on.
With macro fundamentals supportive, the RBI (Reserve Bank of India) still has room to cut rates in 2017.
From a three year period, we remain positive that fixed income is likely to continue to deliver good post-tax returns, in comparison to traditional fixed income investment avenues.
Where do you see value?
In a country like India, with a low return on equity, a fairly valued market, low capacity utilisation, fund managers can make money via stock picking.
At some point of time, we might use the negative news in banking to enter quality names.
Foreign investors are selling and 30 per cent of their holdings is in financial services.
If stocks fall, the sector could look interesting.
We like utilities, which have got fixed returns and could be good bets.
Our infrastructure fund has invested in power, as we believe this country ultimately needs it.
Some power units are operating at 50 to 60 per cent capacity.
After implementation of the UDAY scheme (to reform the finances of electricity distribution companies), the demand for power by states will rise.
As the distribution improves and people start paying for power in the next three years, power plants will be better utilised.
Pharma has also corrected quite a bit and throws up some opportunities.
The market cap of the telecom sector is too low.
There has been recent disruption, but this should eventually settle and the telecom sector should have the market cap it deserves.
At some point, new entrants will also start chasing higher RoE.
When that happens, the equilibrium will set in.
If we are invested in the strongest player, we will not do badly.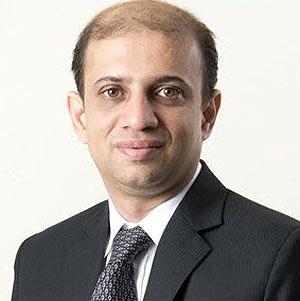 IMAGE: Nimesh Shah, managing director and CEO, ICICI Prudential Mutual Fund. Photograph: Kind courtesy ICICI Prudential Mutual Fund/Twitter
How will demonetisation play on the earnings of different sectors?
Its impact on earnings will be felt across select sectors.
Real estate and related segments such as construction and building materials are likely to see some near-term impact.
Due to the cash flow disruption, demand is likely to take a hit in consumer durables too.
In automobiles, luxury car makers are likely to be more impacted than other segments.
Gold and jewellery also saw a slowing in business due to increased scrutiny, keeping customers at bay.
Among the gainers will be organised retailers, companies related to the financial technology universe and banks, to an extent.
What are your expectations from the Union Budget?
In light of the demonetisation exercise and the expected increase in direct tax compliance, there is a possibility of income tax rebates.
Also, given the increase in revenue from excise and customs duty, there is a strong case for increase in public capital expenditure at a time when private sector capex has taken a back seat.
What can facilitate further growth of the mutual funds industry?
The one change I want is simplification of KYC (Know Your Customer) norms.
Insurance companies, for instance, have identified a sub-mechanism, whereby they depend on the KYC done by the banking system.
We, however, again do the KYC in the MF sector.
The number of first-time investors into MFs can grow four times more than the current rate if we are able to accept the bank KYCs.