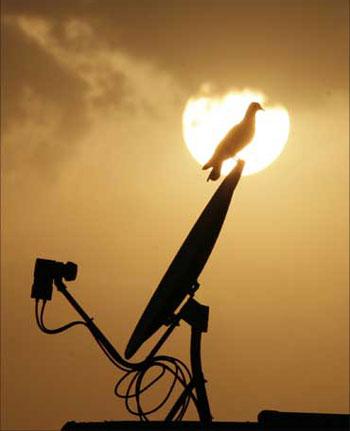 If spectrum is so scarce in India, why did 52.7 MHz (11.19 per cent of auctioned inventory) of airwaves find no takers?
The telecom ministry and operators have been sparring over call drops for a while now.
While operators have been citing the lack of adequate spectrum and disappearing mobile towers, the government is of the opinion that there's plenty of spectrum available.
So much so, 11.19 per cent of the 470.75 MHz spectrum auctioned in March 2015 across frequencies had no takers.

If spectrum is so scarce in India, why did 52.7 MHz (11.19 per cent of auctioned inventory) of airwaves find no takers?
Company officials and industry experts claim there are several factors that led to spectrum going abegging in the 2015 auctions, which earned the government Rs 1.1 lakh crore (Rs 1.1 trillion) in revenues.

There are two broad reasons why 52.7 MHz of spectrum remained unsold in the auctions.
First, operators did not want to buy spectrum in some frequencies namely 800 MHz, a preferred frequency for CDMA operators.
GSM operators told Business Standard that they did not wish to bid for spectrum in the CDMA band, which had the largest amount of unsold spectrum.
The other band where a large amount of frequency remained unsold was 2100 MHz, as operators did not have adequate money left to bid after having paid for precious spectrum in their core areas of operations or the left over blocks were too small for new operators.
T V Ramachandran, policy expert and former secretary-general of Cellular Operators Association of India, says: "Left over chunks of spectrum were not in the shape and form that operators could have used optimally."

In order to understand the mystery of the leftover spectrum, it is important to what was auctioned and how operators bid.
The government auctioned spectrum across four frequencies -- 800 MHz, 900 MHz, 1800 MHz and 2100 MHz.
Nearly 4.8 per cent of total unsold spectrum was in the 800 MHz band (highest unsold spectrum across all bands), which is largely used by CDMA players.
According to a telecom analyst, the spectrum offered in the 800 MHz band was highly fragmented and in blocks much less than 5 MHz.
According to auction guidelines, incumbents could bid for spectrum in this band in blocks of 1.25 MHz, but new bidders could bid only for 5 MHz blocks, even if such a block was not available.

Industry sources say competitive bidding in Maharashtra, Delhi and Andhra Pradesh circles led to prices shooting through the roof, as the incumbents only needed to bid for smaller amounts of spectrum, while new bidders had to bid at least 5 MHz, and therefore, the value put on the table was significantly higher than the one bidding smaller blocks.
Says Rajan S Mathews, director-general, COAI, "The Trai (Telecom Regulators' Association of India), itself noted in the consultation paper that the availability of spectrum for this auction was not sufficient.
The industry had highlighted that in such a scenario, if any auction takes place, then it will become a stress auction for all the participants, especially the extension licensees.
This would defy the entire purpose of the auction and might lead to irrational bidding."
Reliance-Jio tried hard to acquire spectrum in these three circles, but could not do so due to an exponential increase in price, and other incumbent bidder was bidding lower block size and, therefore, value.
Three players -- Tata Tele, Reliance-Jio and Reliance Communications -- concentrated on the 800 MHz band, while other GSM players stayed away.
Emkay Global says that Reliance-Jio, Rcom and Tata Teleservices focused on 800 MHz band, spending Rs 17,100 crore (Rs 171 billion) in total.
The 900 MHz band is the other band where precious spectrum was left over.
This is the band on which the GSM operators had been offering 2G services.
Since this was to be renewed, most operators bid aggressively to retain their spectrum in their existing circles to continue in business.
Of the total of 5 MHz that was left over in this band, 4.2 MHz was in Bihar.
Due to differential bidding rules for new and incumbent players, Bharti was able to bid for 1.6 MHz, while new players Idea and RJio had to bid for 5 MHz. Such blocks were not available for bidding.
According to analysts, if the government had structured the spectrum in blocks of 5 MHz, and not set differential rules for incumbents and new bidders, spectrum of less than 5 MHz would not have been left over and it would have been a level-playing field for all players.
Also, the bidding in some of the 900 MHz circles was so intense that players were left with little money to cough out for spectrum in other bands.
The leftover spectrum in the 900 MHz band in other circles was significantly less than 5 MHz and rules did not allow it to be taken by new players.

Experts say the key issue that led to leftover spectrum was the differential rules in bidding and lack contiguous spectrum in blocks of 5 MHz.
In the 1800 MHz band, for instance, 5.4 MHz was left unsold as the spectrum was fragmented and in quantities that would not have allowed the rollout of the next generation mobile internet services.
Adds Ramachandran, "'Even though telecom policies have come a long way from where they were, the auction design was not optimal for India."

Adds COAI's Mathews, "In the 2100 MHz spectrum band, only 5 MHz of the same was released for auction, while 20MHz were made available by the Defence.
The 2100 MHz band is a globally harmonised band for the provision of high speed data services and its adequate availability will be critical for meeting the national objectives of 'Digital India' and National Telecom Policy-2012.
Releasing only 5 MHz of spectrum instead of the available 20 MHz leads to artificial scarcity, which will not only lead to pushing the prices upwards wherein the operators will be forced to shell out inflated amounts for bidding in order to sustain their businesses, but will hurt the growth of mobile broadband services in the country as well. Eighty-two per cent of the spectrum put up for auction in the 2100 MHz was sold."

Contrary to what the government says, spectrum in India continues to be a scarce commodity and, therefore, very expensive.
According to data collected by the GSM Association, an Indian operator holds an average of 28 MHz of spectrum compared to the 117 MHz held by a Japanese operator, 153 MHz by a Chinese and 136 MHz by a US operator.

In addition, for every million customers in India, there is only 0.1 MHz of spectrum available, while in most European countries it is 3-6 MHz per million customers.
On an average, Chinese telcos hold 60-100 MHz of spectrum, while Indian companies hold 13-15 MHz of spectrum.
The government is not entirely wrong when it contends that telcos have not optimised networks despite an increase in consumer additions, but the telcos are not wrong either when they demand better spectrum farming and in blocks that improve efficiencies.
Image: For every million customers in India, there is only 0.1 MHz of spectrum available. Photograph: Reuters