The money involved is more than Rs 2,000 crore across Andhra Pradesh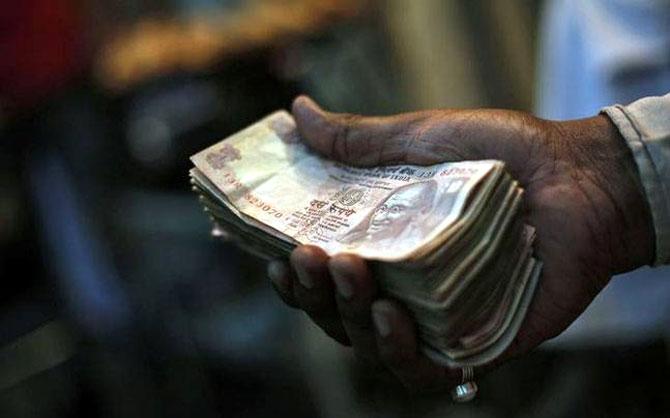 In today's Andhra Pradesh, loan sharks have not only been charging exorbitant interest rates to the needy, often women, but going to the extent of punishing defaulters by pushing them into prostitution. The probe into this looks like it is also pulling a number of politicians into a soup.
'Call money' is a mode of private lending where a loan is made available instantly, and at the borrower's own doorstep but, at exorbitant rates of interest; also, the lender can demand repayment any time, over telephone.
Police have registered 227 cases against moneylenders who were allegedly part of such a process across the state. Of these, five cases involve charges of sexual harassment of the borrowers. Most of the complaints are from the coastal districts of Andhra. And, almost all the accused are either members of political parties or related to influential politicians.
The ruling Telugu Desam Party (TDP) and the biggest Opposition grouping in the state Assembly, the YSR Congress, have accused each other in what appears to be a Rs 2,000-crore (Rs 20 billion)-plus racket.
A statement from Chief Minister Chandrababu Naidu in the Assembly reveals politicians across the spectrum have been named in the police complaints.
"So far, 188 accused have been arrested, which include the sympathisers of YSR Congress (65), TDP (20), Congress (12), CPI (6), BJP (4), Lok Satta (2), CPM (1) and others (78)," Naidu had said.
In a speech on Friday, the CM assured the government would take strict action against all the accused, irrespective of affiliation. The government has also been quick in ordering a judicial inquiry, which couldn't prevent a war of words in the legislature, leading to the suspension of over 50 MLAs.
What initially appeared a moneylending scam had taken a scandalous public turn on December 11, when a woman in Vijayawada told the police commissioner, Gautam Sawang, that she was being sexually harassed. She'd taken a loan for Rs 150,000, she said, and despite repaying Rs 600,000, with Rs 450,000 being the interest, she was sexually abused. When police booked the accused lender, Sawang and his team were shocked by the deluge of complaints of torture and harassment. So far, 348 call money complaints have been received, with 65 per cent involving women borrowers.
On December 18, the police arrested 19 people and seized Rs 23 lakh (Rs 2.3 million) in cash from East Godavari district. They've also charged two private finance companies in Visakhapatnam.
Sawang said an informal moneylending business has been prevalent in coastal Andhra for quite a while but it seemed to have recently turned violent. The first action against such practices was 12-15 years earlier. "But, the greed of moneylenders has skyrocketed and they have started exploiting women sexually," said a senior police officer.
The government has promised to charge the alleged sexual offenders under the stringent Nirbhaya Act. A special court is also being set up in Vijayawada, with a public prosecutor.
Call money lenders charge interest rates several times higher than banks do. The loan could be any amount between Rs 1,000 and Rs 40 lakh. A lender takes a blank promissory note and cheques with signatures from borrowers as surety.
These cheques are often sold to third parties, local goons with muscle power, who extort money from the borrower. If the borrower owns a property, legal documents are taken as surety. The seeming nexus between politicians and moneybags ensures easy supply of black money.
This illegal business is also thriving because land prices have gone up substantially in a short period. If one owes Rs 100,000 and her property is worth Rs 30 lakh (Rs 3 million), the lender holds on to the property till the borrower defaults a couple of times. Then, he forcefully sells it off. Observers are not surprised at these ruthless practices, wherein the lender eagerly looks forward to defaults for making windfall gains.
After the microfinance controversy, leading to a stringent law against recovery, this call money racket highlights Andhra's broken lending system. The government's initiatives so far have had little impact on a sector that affects small businesses and households. In 1999-2000, the then government had mooted a law to check illegal lending but it wasn't enacted.
"Lending takes place in the informal sector because of banks' refusal to grant loans. Microfinance institutions are dead in Andhra and this has opened the way for call money," said a senior banker.
Naidu has a tough task ahead, of ensuring justice and expanding banking to coastal villages. His task is also politically challenging as many of the accused are allegedly from the same Kamma caste as his.
All about the scam
Under call money, loans are offered on calls at a very high interest rate ranging between 60 and 200%
Moneylenders deliver the loan amount to customers against promissory notes and cheques
According to a rough estimate, the money involved is more than Rs 2,000 crore across Andhra Pradesh
Out of 188 people arrested, 65 belong to YSR Congress, 20 from ruling TDP, 4 from BJP, 12 from Congress, 6 from CPI, 2 from Lok Satta and 1 from CPM