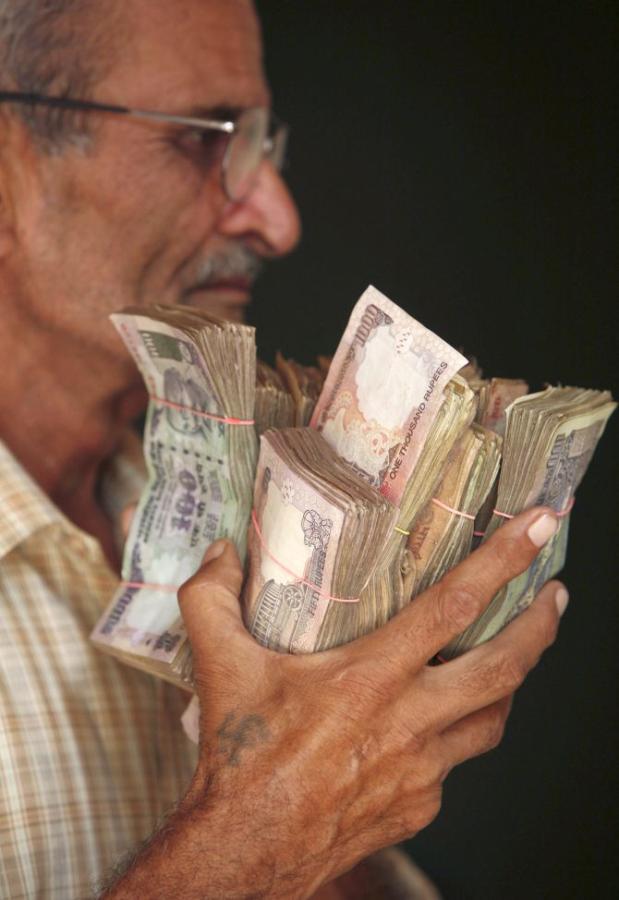 Mobile wallet set to be linked with Jan Dhan
Taking a dig at wilful defaulters, Prime Minister Narendra Modi on Tuesday compared them with the country's poor and backward who, according to him, 'voluntarily deposited' their life savings into the bank accounts under the Pradhan Mantri Jan Dhan Yojana.
"There are poor people in the country, who are so 'rich' that they are wilfully depositing money into the Jan Dhan accounts opened for them.
"On the other hand, there are rich people who are so 'poor' that they take loans from the country's banking system and then flee the country," the Prime Minister said at the launch of the Standup India scheme on Tuesday.
Standup India, which has been played up as one of the National Democratic Alliance government's flagship initiatives, aims to provide loans between Rs 10 lakh (Rs 1 million) and Rs 1 crore (Rs 10 million) to the Scheduled Castes, Scheduled Tribes and women entrepreneurs.
While the PM did not take any names, his comment assumes significance in the backdrop of 17 lenders, including State Bank of India, trying to recover around Rs 9,000 crore from liquor baron Vijay Mallya.
The industrialist, who faces prosecution in India, is reportedly in London.
"This nation has seen the generosity of the poor. Rich borrowers look for ways to run away after borrowing money from banks.
"The poor were required to open zero-balance account under the Jan Dhan scheme. Look at their honesty, their self-respect.
They opted to put money into their accounts. . . Rs 50, Rs 100, Rs 200.
"The deposits exceeded Rs 35,000 crore (Rs 350 billion). This is the generosity of our poor people," said Modi.
Meanwhile, Modi also indicated that PMJDY would be linked to mobile wallets, a move that will mean millions of new user base on the digital payment platform.
PMJDY is already linked to direct benefits transfer, RuPay Card and other government social security schemes.
The PM said one would soon be able to pay for things such as e-rickshaw fares via mobile phone wallets linked to Jan Dhan accounts.
"Now, you would be able to book a ride in a e-rickshaw with the help of this app and then, even if you do not have money in your pocket, you would be able to pay via your mobile phone, which would be linked to your Jan Dhan accounts."
Mobile wallet companies such as Paytm and Freecharge clarified that the PM was talking about an option of linking mobile wallets to Jan Dhan.
Freecharge and taxi-cab aggregator Ola introduced varied plans in association with the government.
On Tuesday, the PM distributed 5,100 e-rickshaws to people in the National Capital Region. Customers would now be able to book an e-rickshaw ride via the Ola App and make payments to drivers using Freecharge.
All this is part of the PM's digital India initiative.
Freecharge also plans to add around 10,000 e-rickshaw drivers on its platform by the end of this month and a million merchants in the 'rickshaw category' by end-2016.
From Bhojpuri songs and Hindi religious numbers to chants of Bharat Mata Ki Jai, Standup India event was a contrast to Startup India, which was organised at New Delhi's Vigyan Bhavan in January.
It was at the Startup India function that the PM had unveiled the policy roadmap for tech-based entrepreneurs, and subsequently the Union Budget carried it forward. Founders of well-known start-ups and venture capital funds had gathered at the January event.
While Startup India was a jazzed up event complete with fireside chats with prominent entrepreneurs and investors, Standup India looked more like a political rally.
At the Noida event, member of Parliament Manoj Tiwari, among others, sang popular numbers to woo the thousand-plus villagers who had come from nearby villages as well as the chosen recipients of 5,100 e-rickshaws, which the PM distributed.
Around 50 senior executives from banks, including SBI Chairperson Arundhati Bhattacharya, were present at the event. From the start-up world, Ola's Bhavish Aggarwal and senior representatives from Freecharge attended.
The PM and Finance Minister Arun Jaitley held a short chai pe charcha with families of the would-be e-rickshaw owners. To give an added effect to the mock tea stall at the grounds in Noida, Babu Bhaiya Chaiwala served tea to the PM in an earthen cup.
What is Standup India?
Standup India is one of the flagship schemes of the Modi government aimed at providing loans between Rs 10 lakh (Rs 1 million) and Rs 1 crore (Rs 10 million) to the backward sections of the society and Scheduled Castes and Scheduled Tribes and women entrepreneurs to start or expand their businesses.
The scheme was first announced by the PM on August 15, 2015 from the ramparts of Red Fort along with its sister scheme Startup India.
Finance Minister Arun Jaitley in the Union Budget 2016-17 had allocated a combined sum of Rs 1,100 crore (Rs 11 billion) to the two schemes.
Out of that, Rs 500 crore (Rs 5 billion) is allocated for Standup India. Jaitley announced on Tuesday that 1.25 lakh people would benefit from the scheme.
The image is used for representational purpose only. Photograph: Reuters