When Prashanth Reddy's father was in an ICU he could not find a lab that would deliver a blood infection test report in 24 hours. That's where iGenetic Diagnostics, which uses molecular techniques next generation sequencing, came in. Sharath Chowdary reports.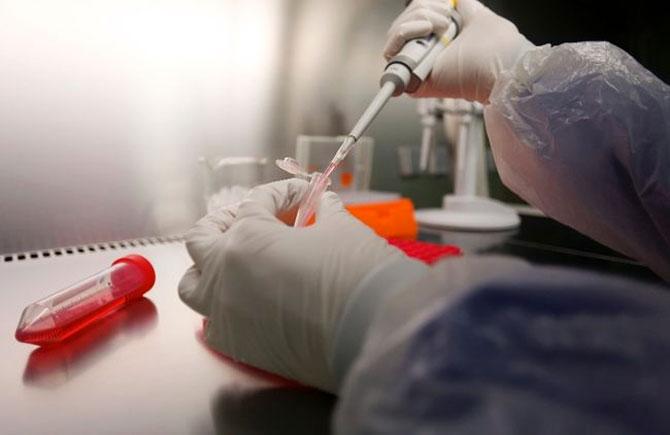 IMAGE: Early and accurate diagnosis of grave health risks can not only save lives but also reduce hospital stay, implying a direct cost saving for patients. Photograph: Wolfgang Rattay/Reuters.
Pathology labs and diagnostic centres are everywhere in Hyderabad, but when Prashanth Reddy's father was in an intensive care unit (ICU) he could not find a lab that would deliver a septicemia (infection of the blood) test report within 24 hours. His search ended after a lab technician referred him to iGenetic Diagnostics, which uses molecular techniques for identifying critical infections and drug resistance.
Traditional microbiology techniques are time consuming. It takes two to three days to grow bacterial cultures and much longer to grow fungi and other pathogens (bacteria that cause disease). At times, if the patient is on an antibiotic treatment, the pathogen cannot be grown by these methods.
Molecular techniques are significantly faster and allow reporting within 24 hours even if the patient has started antibiotic treatment.
Early and accurate diagnosis of grave health risks can not only save lives but also reduce hospital stay, and this implies a direct cost saving for patients.
"Our techniques are more accurate and can lower the total cost of treatment for a patient. Several of our investigations are life saving as they use highly specialised methods to generate results in a very short time," said Arunima Patel, co-founder of iGenetic.
"For some of our critical tests, we are able to provide a report in eight hours. For critical care patients this can provide a huge benefit as clinicians can start treatment in a matter of hours rather than waiting for days," she added.
The four-year old pathology provider offers a range of tests in areas of infections, critical care, gynaecology, infertility and cancer diagnostics. It has significantly brought down the detection time for high-end diagnostics, such as septicemia detection and antibiotic drug resistance, from three days to one day or less.
Opportunity
According to consulting firm Arete Advisors, India's lab diagnostics industry is pegged at ₹25,000 crore, and it has grown at a compound annual rate of 16 per cent in the last five years. The high-end diagnostics segment, which comprises molecular and genetic diagnostics, is sized at ₹1,200 crore, and it is growing exponentially.
Dr Lal PathLabs, SRL, Metropolis and Thryocare are some of the players in the country's pathology market, while Medgenome and Core Diagnostics are the key players in the specialised testing market.
iGenetic has a presence in five cities, and it is poised to start operations in Bengaluru, Chennai and Pune in three months. It plans to penetrate deeper in the western and southern parts of the country to establish its network.
The company has specialised in septicemia detection, antibiotic detection and comprehensive neurology services (CNS) panel tests. It has so far filed for three patents in India.
iGenetic had served more than 150,000 patients during last year, Patel said.
Business model
iGenetic receives samples from hospitals, nursing homes, clinics and walk-in patients as well as home collection.
It follows a hub and spoke model. In the initial phase, it has invested significantly to set up the central processing lab or the hub. Later, satellite labs were established with lower investments.
iGenetic has a central processing laboratory in Mumbai and satellite laboratories and patient care centres in Mumbai, New Delhi, Ahmedabad, Nagpur and Hyderabad.
It is implementing the same model for future expansion.
Road ahead
iGenetic plans to expand its reach to the top Tier I and Tier II cities. Apart from this, the company will also have deeper penetration in western and southern states.
The size of the investment for the hub and spoke labs varies depending upon the menu of services offered.
The Mumbai-based diagnostics firm recently raised around $20 million from the $75 million health care fund launched by Manipal Education and Medical Group (MEMG) and the United kingdom-based CDC Group. Earlier, it had raised $1.5 million in an angel round in 2015.
"The latest round of funding will be used to support the company's organic and inorganic growth plans for the next five years. We are growing significantly month on month since inception, with doubling of revenues last year, and the growth trajectory is robust," Patel said.
Last year, the company made two acquisitions -- SJM Diagnostics and Clinical Pathology Laboratory -- both in Mumbai. It is looking to acquire laboratory chains having an annual turnover of ₹5-100 crore.
"With growing demand for health-care services and shortage of quality service providers, we see a huge potential in this space. iGenetic's strong leadership team and its entry into new geographies will scale up operations within a couple of years," said T Ramoji, senior vice-president of MEMG.
The investors had decided to fund $20 million after evaluation of iGenetic's growth opportunities. They were convinced the fund would provide the management team reasonable scope for organic and inorganic expansion.
According to Ramoji, there has been a reasonable improvement in the business processes and pipeline build-up between angel investment and the recent round of investment.
iGenetic has earned a name for its service and quick turnaround time. The business has huge potential considering the growth prospects of the industry.
Challenges
Limited availability of trained manpower is a major challenge the industry is facing. There are very few organised players in the industry and these players have scaled up only in the recent past.
iGenetic keeps trainee staff across its key functions. It has made significant investments in providing on-the-job training to staff.
The company is also building awareness about its unique tests among doctors. It is conducting several Continuing Medical Education programmes and other educational workshops to raise awareness about its tests.
At present, there is no regulatory framework for running a diagnostics laboratory and national accreditation is optional. Though the leading diagnostic network chains have opted for this accreditation, there are hundreds of small labs that do not follow the requisite quality or reporting guidelines. A regulatory framework governing quality is needed to address this issue.
Integration of the new acquisitions and achieving uniform profitability will be another key challenge for iGenetic, say industry experts.
Focus on increasing awareness to drive growth
iGenetic is a strong clinical and management team, and is uniquely positioned to ride the growth wave of the diagnostics industry with its expertise in high-end diagnostics in oncology, infectious diseases and reproductive genetics.
It offers distinctive tests such as non-invasive prenatal testing (NIPT) and 24-hour septicaemia panels. It has built strong brand equity among consultants and hospitals.
Given its presence in key markets like Mumbai, New Delhi and Hyderabad, the company can grow at 30 per cent over the next three years.
To drive growth, iGenetic needs to focus on increasing awareness about molecular and genetic testing among clinicians.
It must recruit more sales personnel focused on driving the volume of genetic and molecular tests in key markets like New Delhi, Hyderabad, Bengaluru, Kolkata, Mumbai and Chennai.
iGenetic should focus on continuous research and international associations to create new panels and tests.
Also, new labs must be established for routine investigations in Tier-I and Tier-II cities in the existing clusters like Maharashtra. Partnerships or acquisition of labs will help iGenetic to increase its market reach.