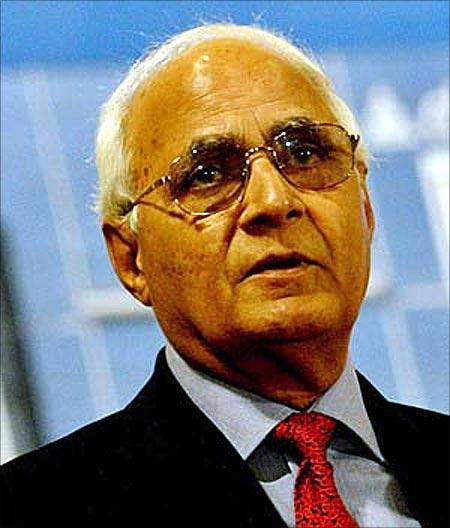 A complaint by Kimsuk Krishna Sinha, KK Sinha to friends, has brought DLF, India's largest realty firm, to its knees.
Finding the company guilty of "active and deliberate suppression" of material information at the time of its public issue, the Securities and Exchange Board of India on Monday barred DLF and six of its executives, including Chairman K P Singh, from accessing the capital market for three years.
According to corporate affairs ministry data, Sinha is a director in two companies - Gobinda Tea Trading and Kriti Infrastructures. He speaks fluent Bengali, which he possibly learnt while in Darjeeling, where he is said to own tea estates.
Sinha, who will turn 50 this December, speaks softly but with conviction. The legal acumen he picked from his father, a former Supreme Court lawyer, seems to have helped him in his long fight against the realty behemoth. His late mother was a British national.
When contacted by phone, city-based Sinha, declined to comment, directing the queries to his attorney, Rajneesh Chopra. Chopra, managing partner at C&C Associates, said, "It has been a long and arduous journey. My client, K K Sinha, is delighted with the outcome in the case. Truth has prevailed."
Associates said Sinha enjoyed trading in the stock market and had also dabbled in real estate.
A piece of land he was involved with in Gurgaon led to association with DLF. The land was owned by a third party. Chopra said Sinha was negotiating with the third party and had entered into an agreement to buy the property, when DLF expressed interest in it.
Following negotiations, the original owner, Sinha and DLF entered into a tripartite agreement to develop the property. The title of the land was transferred to Sudipti Estates, a DLF entity. Sinha and the original owner were paid their considerations.
Trouble brewed at the second stage of the transaction, when the consideration amount was ploughed back into the company to buy and co-develop an adjoining property.
Disputes arose over a sum of Rs 31 crore, which led to a series of complaints and court cases.
Though the realty company is likely to move appeals against the order, it is unlikely Sinha will give up without a fight.

Image: DLF Chairman K P Singh