As A M Naik stepped down as L&T CEO, there are some things he still needs to take care of. And given his love for his company that's not the last we are going to hear of him yet.
Illustration: Dominic Xavier/Rediff.com.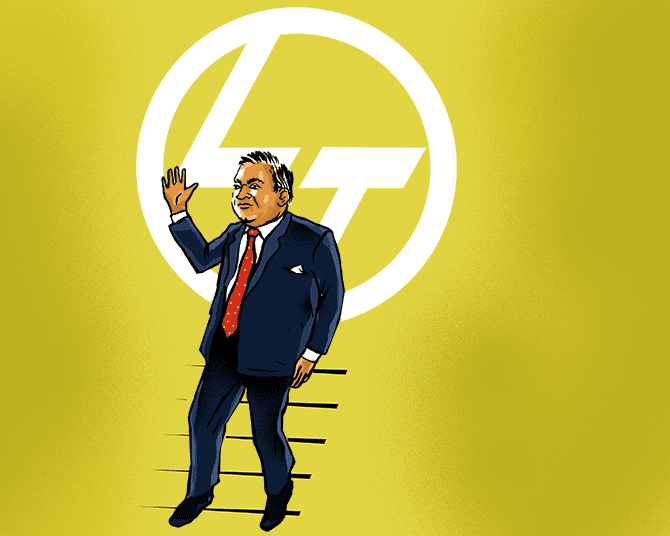 One can safely call Larsen & Toubro an obsession for Anilkumar Manibhai Naik without it being an overstatement.
In Naik's own words, the engineering conglomerate is his hobby, while everything other than L&T is work.
From July 1, Naik's protégé, S N Subrahmanyan, is responsible for nurturing his 'hobby'.

For the past few decades, L&T and Naik have been synonymous with each other. Naik has often referred to the song, Jeena yahan marna yahan/Iske siva jaana kahan, from the 1970 film Mera Naam Joker, to describe his association with L&T.
Naik's close relationship with the company, in turn, also made the hunt for a successor an uphill task and one ripe with speculation. This was one of the reasons, Naik continued to hold chairmanship even after he turned 65, the retirement age at L&T, in 2007.
This association has had its own share of corporate drama, including a hostile takeover from the Aditya Birla Group. Thwarting the takeover would continue to be Naik's most significant achievements at L&T, and, by his own admission, his greatest contribution to its legacy.

"The biggest hit is that from zero, we (employees) became owner of the company. There is no precedence to this and perhaps there would not be any. This would be the biggest legacy, I suppose, I would be leaving," he earlier said.


IMAGE: S N Subrahmanyan became the CEO of L&T after A M Naik on July 1. Photograph: Kind Courtesy L&T.
In a bid to save the rest of the business, L&T agreed to sell its cement division to Aditya Birla Group. Even a decade later, prospects of a hostile takeover continue to worry Naik. In the run-up to his retirement, Naik said in an interview in 2015, that he hoped the leadership after him would be strong enough to safeguard the company from predators.

Naik's journey at L&T was preceded by a brief stint as manager in a company whose management style, after a change in ownership, did not suit him for its peremptoriness and arrogance. He didn't begin on a strong footing at L&T; his Danish general manager found him 'over-smart'. This didn't stop Naik from becoming L&T's youngest manager ever at the age of 33 after four years and eight months of service.

The 75 year old has spent more than 52 years of his life at L&T, but adds he still has unfinished business. Starting July 1, Subrahmanyan, whom Naik has meticulously chosen and mentored, took charge as the group's managing director and chief executive officer. Naik will step down as the executive chairman of the company on September 30, but will continue to remain associated with L&T as non-executive chairman for another three years.

New CEO Subrahmanyan's key challenge will be to maintain the growth rates that the company is accustomed to. The company in the last financial year missed meeting its order inflow growth guidance, which will make clocking double-digit growth rates a challenge.
In addition, the company is also facing execution problems that are largely macroeconomic and regulatory in nature. L&T has chalked out a plan to divest completely or partially non–core assets to streamline business verticals and reduce debt. The implementation of this plan would be crucial for future growth.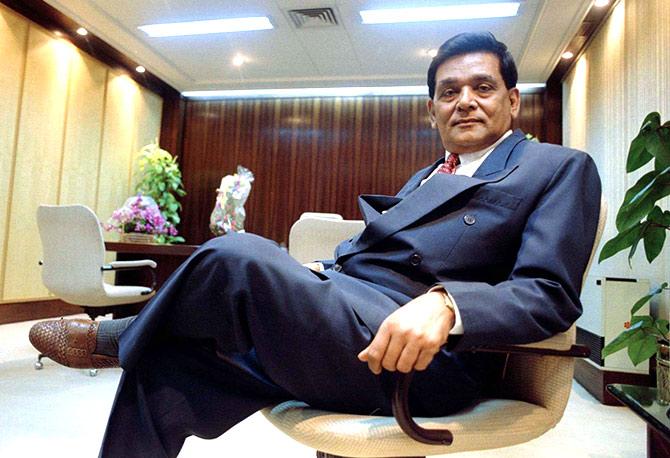 IMAGE: The 75-year-old A M Naik has spent more than 52 years of his life at L&T, but says he still has unfinished business. Photograph: Reuters.
Naik, too, has some tasks pending. Part of his unfinished business, Naik in an interview to Business Standard in April he said was to complete restructuring of seven-eight companies.
Ironically, L&T turned into a widely diversified conglomerate under Naik's leadership, a decision Naik and the top management at the company is now trying to reverse through restructuring and consolidation.
Naik has been candid enough to accept his follies. "It is my doing for years and I think I better finish it and Subrahmanyan should not be bothered about these," Naik said in the April interview.

One thing Naik does not wish to miss after retirement is his association with L&T.
A state-of-the-art hospital at the Powai campus would be befitting of this desire. "The hospital will be my monument and legacy to L&T," Naik earlier said.