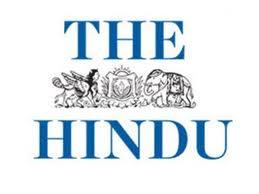 Separate entity for publishing business of Kasturi & Sons Ltd to increase focus on publishing business; no plan to bring in external investors, says firm.
Kasturi & Sons Ltd (KSL) has decided to demerge its flagship publishing business into a separate entity, bringing in a new structure to the whole entity.
It has also announced the board level changes while the operational team continues to be the same.
According to sources, the move will bring English publications, which were under KSL, to a separate subsidiary.
With this, KSL would be a holding company under which there would be subsidiaries -- The Hindu newspaper, KSL Media, which runs the Tamil daily The Hindu Tamil, KSL Digital Ventures, which runs a real estate portal, and Sporting Pastime India, a subsidiary promoted to develop a golf course in Chennai.
The idea behind the new structure is to bring focus into the publishing business, specifically, with growing new businesses, said sources. There is no plan to bring in external investors into the business, they said.
The company said Mukund Padmanabhan would continue to be the editor of The Hindu, while Rajiv C Lochan would continue to be KSL's managing director and chief executive officer of the publishing business.
N Murali has been appointed as chairman and Nalini krishnan as co-chairperson of KSL, the holding company. The existing directors of the pre-merged KSL constitute the board of the holding company.
N Ram will be the chairman, and Malini Parthasarathy will be co-chairperson of The Hindu Group's (THG) publishing company. Parthasarathy had resigned as editor of The Hindu.
THG Publishing, whose board has been constituted with the existing directors of KSL, THG's newspapers, magazines and digital news media publications are now a part of this company.
N Ravi has been appointed as the publisher of The Hindu and other publications of THG. Till now, N Ram was the chairman and publisher of The Hindu.
Kasturi & Sons, the parent company of The Hindu newspaper, had been a stable and profitable media company.
According to sources, the group's revenue is estimated to be about Rs 1,200 crore.