TCS, Infosys and others are banking on automation to protect their turf in the US, but building a successful revenue model around it may prove difficult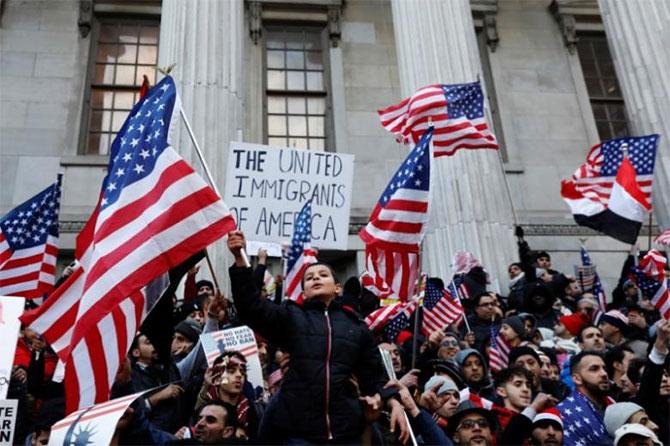 President Donald Trump's proposed Bill on raising the minimum salaries of H1-B visa holders, if it goes through, is likely to raise the cost of Indian IT companies, which have so far built their business by focusing on the cost end of the spectrum.
The US accounts for nearly 60 per cent of the software export business for Indian players and the changes in the offing could make a big dent in their revenues.
Although Indian software firms have onsite presence, their business model is skewed towards pushing work offshore where they can leverage the cost advantage to deliver value to clients.
However, as Indian companies work out a strategy to deal with these changes, some believe more than the visa norms, it is the tardiness in automating their IT processes that could accelerate the demise of their business model.
The country's two largest IT firms, TCS and Infosys, have said they plan to tackle the growing move towards protectionism with a combination of more local hiring and virtual technologies, which may be difficult to legislate against.
This plan, however, may fail to bear fruit if IT companies are not able to make substantial headway in achieving automation quickly before the contracts go for rebid.
Over the next two years, the IT industry is expected to see a reduction in orders for traditional services.
"A lot of the traditional service work orders will be replaced by automation. In fact, automation of technology services may potentially take out 30-40 per cent of the traditional pie from Indian companies. This clearly says that they have to catch up fast with global peers in increasing digital technology footprint," says Pareekh Jain of HfS Research India, a technology researcher.
There is a sense of urgency among Indian companies. Infosys Chief Executive Vishal Sikka reiterated the need for faster shift to digital during a call with investors on Monday. Even though Infosys is among the earliest advocates of embracing automation and artificial intelligence, traditional services continue to earn four out of five dollars for the company.
"It (automation) may not be now, but in two, four or ten years. We have to eliminate our own work, improve productivity, deploy the improved productivity to innovation," said Sikka, while quoting a report from HFS Research which says India will see the biggest impact on jobs due to automation.
Stepping up investment
Global companies are investing billions of dollars in digital transformation. BNP Paribas, among Europe's largest banking firms, says it would invest Euro 3 billion over three years in digital technologies as it looks to engage with young and technology-savvy customers.
While higher demand for automation from businesses across major markets is throwing up newer opportunities, Indian companies are still not geared towards it, say analysts.
"One of the things that may pose a challenge over the next couple of years is the slow progress made by Indian companies in digital technology compared with their global peers like Accenture and IBM," says Jain.
The protectionist headwinds blowing globally could set them back further. In India, as is the case globally, there is a shortage of trained engineers to work on large digital projects.
Such projects typically need engineers and analysts to work with customers on-site. Such projects start small but the engagement with customers is deeper and strategic with involvement of top leaders of the client. However, as the US tightens its visa norms, companies won't be able to build their capabilities swiftly by shifting resources abroad.
Some, though, also doubt the sustainability of a business model built around automation.
"The very antithesis of the traditional global IT services model is to counter with offering design to reduce the reliance on manual labour... The challenge here is the whole revenue model is tied to savings through headcount elimination and the generation of licence fees for bots.
While automation would be very hard for the likes of Trump to legislate against, it is also very hard for service providers to construct revenue models around it," says Phil Fersht, chief executive at HfS Research, in his blog post titled Four golden rules to save Indian IT industry from Trump.
According to Fersht, the revenue upside in automation is tied to consulting and helping clients figure out what is possible - which is why the likes of Accenture, EY and Deloitte are leading this space.
In a wait-and-watch mode
While Indian firms are optimistic of growth returning, the numbers say otherwise. Industry body Nasscom expects exports to grow 8-10 per cent this year. But even this could be difficult to achieve as TCS, Wipro and Infosys, the top three players, are expected to report single digit growth for the year.
They are facing pricing pressure on traditional services, while growth rate in new businesses is not offsetting the decline.
The overall macroeconomic environment does not seem to have turned completely in favour of Indian IT service providers since the slowdown in spending after Brexit and the US elections. Two major sectors, oil & gas and telecom, have still not renewed investments in technology.
Mayuresh Joshi of Angel Broking suggests having a longish view on IT stocks, and advises fresh investors to either wait for a better entry point or let clarity emerge on the ongoing issues before taking a plunge into IT stocks.
"The valuations of large-cap IT companies look attractive, but the uncertainty over Brexit issue in the UK and H1B visa issue in the US will be the two headwinds in the short-term. The IT companies are looking at mitigating the risk but the real impact will be visible when the US Bill actually turns into a law," Joshi says.
Photograph: Lucas Jackson/Reuters