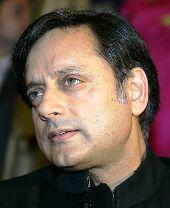 The government expects that a number of pending legislations pertaining to HRD ministry will be passed during the upcoming Winter Session of Parliament despite possible opposition from some Congress members of Parliament.

"We have 20 bills pending, 11 on higher education and nine on school education. I don't think it will be realistic to get all through, but we would certainly want to try and get as many as possible passed in the next couple of sessions," Minister of State for HRD Shashi Tharoor said.

In an interview of Karan Thapar for Devil's Advocate programme on CNN-IBN, he said a lot of persuasion will be required to convince Parliamentarians rather than pushing for enactment of the legislations.

He ruled out the possibility of 'arm-twisting' to get the MPs, especially from Andhra Pradesh and Karnataka, on board on these bills as they fear the reforms will affect institutes patronised by them.

"I am not sure (about) the presumption that an arm-twisting is required, I think there is an act of persuasion (that is) required," he said.

With several bills relating to education pending, Tharoor exuded confidence over the passage of as many of them with M M Pallam Raju heading the ministry.

"I think Pallam Raju can succeed.

"He is experienced. . . he has been in Lok Sabha for 23 years and Kapil Sibal has not (been there for as many years).

"That is important to understand," he said replying to a question.

He said the HRD ministry comprising Raju, him and Jitin Prasada was already 'working very much as a team'.

Tharoor felt that an "exercise is required to choose which bills can be pushed more quickly and which bills will require further work."

Talking about the recent cartoon controversy in CBSE textbooks, Tharoor supported the decision to remove the sketch even as he termed the row over it as 'unfortunate'.

"As you know in our country and in politics, perception is all that matters and even if it seem to the dalits that this cartoon (on Ambedkar) was denigrating them...implying flogging of their icon Dr Ambedkar, then the cartoon had to go, particularly since it was in the school textbook," he said.

He said a committee comprising academicians was set up and it had suggested removal of all offending cartoons "only because the incident (the issue) had proved that the cartoon was liable to misinterpretation".

Asked whether the HRD ministry needs to make people understand that cartoons are being misunderstood, he said realities of politics have to be understood.

"That's the irony of politics in these matters.

"Perceptions often matter than reality. . .if Nehru and Ambedkar were alive, they would have laughed off at the cartoon. . .But this was a 1949 cartoon.

"In 2012, there was outrage. . .," he said.

To another question, he favoured extending autonomy to institutes only if quality in education is ensured.

He said while IITs and IIMs are islands of excellence, others are floating in a sea of mediocrity.

"The time to focus on quality, to me it seems, is now. If autonomy is one which can ensure quality, I am sure we will be looking at it," he added.
Image: Shashi Tharoor | Photograph: Reuters
© Copyright 2023 PTI. All rights reserved. Republication or redistribution of PTI content, including by framing or similar means, is expressly prohibited without the prior written consent.