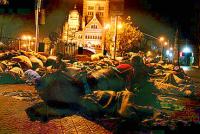 Vijay Govindarajan, now a professor who teaches international business at the US-based Tuck School of Business, has a dream that could become a reality soon.
He wants even the 'very poor' to have a house for just $300 each (around Rs 15,000).
Along with a marketing expert, Christian Sarkar, he wrote a blog on the website of
Harvard Business Review
about this possibility last year, and followed with a contest.
Nearly 2,500 people signed up, and there were 300 submissions, one from a team at Mahindra Partners Division.
In late June, Govindarajan announced six individual winners, while Mahindra Partners received a separate global award of recognition for corporate participation.
"The team (Mahindra) will have to convert their paper design to a prototype, after which there will be a pilot and scaling-up of the project in the near future," says Govindarajan.
While the Mahindra team is yet to finalise the date to proceed to the US, Mohan Raghavan, their team mentor, says: "The brief was to design a dwelling which would be sustainable, secure, durable, replicable and dignified, within $300.
"In our entry, we not only attempted to address all these factors but have also made a case for its commercial viability."
When first drafting a blueprint, the Mahindra Partners team called for the use of bricks but this pushed the budget over $400.
Scrapping that idea, the team settled on suru wood, bamboo, and FRP (fibreglass reinforced plastic) sheets - all locally used and widely available in India.
Natural insulation (heat is absorbed) is provided by the mud flooring, while bamboo walls have the strength to withstand storms, fires, rains, snow, earthquakes and other natural calamities.
Suru poles can withstand earthquakes/tremors, while the FRP sheets can protect occupants from heat and rain, while looking aesthetic and providing natural lighting.
A raised plinth and door prevents unwanted entry
of crawling insects and animals, while increasing the level of hygiene and sanity.
The prototype could take at least another 12 months to see the light of day, according to Govindarajan. Nevertheless, the $300 housing prototype is a case in point.
At a time when 1.5 billion of the world's inhabitants are living on less than a dollar a day, and India's cities need more than 20 million homes, technology is aiding in making housing affordable to the poor.
Matheran Realty, one such company, is in the process of building 15,000 flats, with prices starting at Rs 210,000 for 19-sq metre units (one-room kitchen).
So is the Tata Group, building basic units at Boisar, about 100 km north of Mumbai city, and priced these between Rs 390,000 and Rs 670,000 each.
Jaithirth Rao, better known as Jerry Rao (he'd also founded IT services company Mphasis before it was acquired by EDS and now HP), launched an affordable housing project in Bangalore.
His company, Value and Budget Housing Corporation, has apartments priced between Rs 4.5 lakh and Rs 10 lakh.
In April this year, another former Citibanker, Ramesh Ramanathan, launched Janaadhar Subha, comprising 528 flats of 400 sq ft each in size, priced at Rs 4 lakh, excluding property registration and other charges.
"The figure ($300) is simply an indication that we have to work towards giving the very poor a home, so that they get a sense of dignity. Besides, there's nothing wrong in the private sector seeking a fair return in the process," says Govindarajan.
When asked if he took into consideration the cost of land in cities like Mumbai, Govindrajan admits that "land is a thorny issue, but it can be solved in some ways".
He suggests governments could allocate land to economically-deprived classes.
Second, big companies can pitch in (for instance, groups like the Tatas and Mahindras, which have interests in real estate, too) by purchasing large tracts of land and seek a decent return on investment.
Third, philantrophists could buy land for such ultra low-cost housing projects.