The city has the highest vehicle density in the country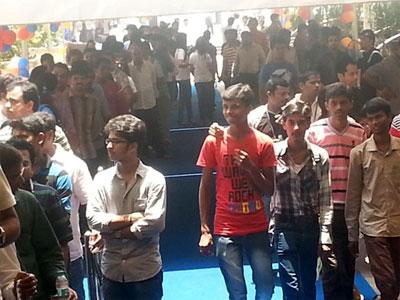 Road infrastructure in Bengaluru, often referred to as India's Silicon Valley, has failed to keep pace with the city's rapid growth. But the residents of the city's newly-developed areas like Outer Ring Road (ORR) and Sarjapur Road are finding new ways to engage with the local administration both online and offline.
An example of such creative protest was seen on Friday when around two thousand people, most of them employees of global IT firms, took to the streets demanding better roads, traffic management and public transport.
Friday's 'ORR Sarjapur Rising' came less than a month after residents of Whitefield, another suburb, held a similar protest drawing the government's attention towards their problems.
"It sometimes takes school kids an hour to reach home. That is frustrating everybody. The auto drivers overcharge us claiming that they lose business due to long snarls," said Priya Ramasubbam, a filmmaker and resident of ORR-Sarjapur area.
Hundreds of apartments have come up along the ORR Sarjapur Road in the last few years. Several IT firms such as Intel, Wipro and Flipkart have set up offices in the vicinity. But the narrow, potholed roads face traffic jams that sometimes last for hours. Bengaluru has the highest vehicle density in the country. There are 5.87 million vehicles for nearly 10 million people here.
The protesters said they had no other option but to use personal vehicles as there was no reliable public transport. They suggested that before a world-class Metro rail system is built, the government should run electric trains between Kamalapuram and Whitefield, using the existing rail tracks.
Apart from this, they have sought a dedicated bus corridor by reserving one lane on the existing roads. "Initially, we wondered if protest was the right thing to do. We want to work in constructive ways. But when the authorities weren't listening, we decided to go ahead with the protest," Ramasubbam added.
A similar protest is happening online where 6,000 residents have petitioned Bengaluru Development Minister K J George on Change.org, seeking urgent repair of roads and laying of new roads.
Drawing the minister's attention to the "rapidly deteriorating" state of Bellandur, the petition observed: "All these roads have not been widened or improved since Bellandur and Devarabisanahalli flyovers were built more than five years ago. Since then, the traffic has increased manifold. Sarjapur road widening is a project pending since the past 10 years."
ORR companies, the petition pointed out, contributed about Rs 100 crore (Rs 1 billion) property tax last year to the state government. Yet, development works worth only about Rs 5 crore (Rs 50 million) has been taken up.
"As one of the highest taxpayer constituencies in Bengaluru, we are furious with this poor report card. We should hold our elected officials such as the corporator and the MLA responsible. We deserve to have better quality of life and better infrastructure in the near future," the petition read.