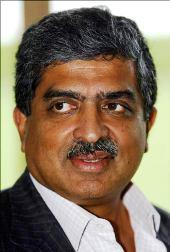 Tech-guru Nandan Nilekani, chairman of India Unique Identification Database Authority, will get the Legend in Leadership Award from the Yale Chief Executive Leadership Institute at a ceremony in New Delhi on November 6.
Nilekani, co-founder of Infosys Technologies Ltd., India's second largest technology company by sales, is the first Indian to receive this prestigious award.
The award will be presented to Nilekani by Yale University president Richard C Levin at the Yale CEO Leadership Summit of The Chief Executive Leadership Institute.
The summit will convene one hundred world-renowned business leaders in New Delhi on November 5 and 6 to discuss the theme of 'Navigating the Global Oceans of Opportunity for Indian Business.'
Nilekani, who co-founded Infosys in 1981 and served as CEO from 2002 to 2007, holds the rank of cabinet minister as the first chairman of the Indian government's newly created UIDA.
The universal ID card is expected to help ensure that most of the billions of dollars India and other organizations spend on aid reach the people for whom it was intended.
At present Indians use a wide variety of documents to prove their identities, such as state-issued driver's licenses, ration cards or sub sized food permits at government-run stores and a tax identification card that is akin to the American Social Security card.
The Legend in Leadership Award was created 20 years ago to honour current and former CEOs who serve as living legends to inspire chief executives across industries, sectors, and nations.
Past winners of the award include Jamie Dimon of JPMorgan Chase, Robert Iger of The Walt Disney Company; Stephen Schwarzman of The Blackstone Group, Don Keough of The Coca-Cola Co, McKinsey founder Marvin Bower and Richard Teerlink of Harley-Davidson.
"I am travelling to New Delhi and Mumbai for a week-long trip to advance the Yale India Initiative. I will give the keynote address for the India Higher Education Summit on November 6, and participate in the Yale School of Management India CEO Summit, the World Economic Forum India Economic Summit, and will help launch India's green buildings standards," president Levin told rediff.com ahead of his trip to India.
Among the conference participants in New Delhi will be Kapil Sibal, Union minister of human resource development; Montek Singh Ahluwalia, deputy chairman, Planning Commission, Rajan Mittal, vice chairman and managing director, Bharti Enterprises; Sanjeev Chadha, chairman and CEO, PepsiCo India; Deloitte Global managing partner Jerry Leamon; Reliance chairman and managing director Mukesh Ambani and Rajendra Pachauri, director-general, the Energy and Resources Institute and director, Yale Climate and Energy Institute.
The Yale Chief Executive Leadership Institute was founded in 1989 to provide original research on top leadership and lively, current educational forums through peer-driven learning for accomplished leaders across a range of sectors.
Image: Nandan Nilekani. | Photograph: Reuters