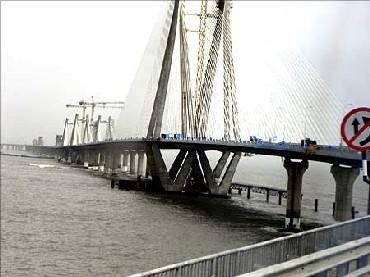 A tussle over the release of the viability gap funding of Rs 1,392 crore (Rs 13.92 billion) to the developers of the Rs 5,100-crore (Rs 51-billion) proposed Worli-Haji Ali sea link, between the Maharashtra government and state-run Maharashtra State Road Development Corporation may further delay the project.

The developers, Reliance Sea Link One Pvt Ltd -- a joint venture between the Anil Dhirubhai Ambani group's Reliance Infrastructure and Hyundai Engineering -- is ready with the financial closure for the project after MSRDC submitted a no-objection certificate from its bond holders to the joint venture company.

But, the company wants the key financial issues to be resolved before filing the closure report.

The issue featured in the Maharashtra Cabinet meeting on Wednesday, with state Public Works Minister Chhagan Bhujbal being critical of his government for not fulfilling the financial obligations.

The viability gap funding -- a financial support to make economically essential infrastructure projects commercially viable -- was obligatory as per the concession agreement singed in June 2010, but the state government had declined MSRDC's request to pay the fund to RSOPL.

Instead, the chief secretary had made it clear to MSRDC during a recent meeting that the corporation had to arrange for its own funds.

He had said MSRDC could mobilise funds from the proceeds of the auction for toll collection or by selling land off the Mumbai-Pune expressway.

Bhujbal criticised the
state government stand and said it was binding on the government to provide the funding on priority, as the project was awarded to RSOPL about two years ago.
He said the government should not differentiate between state-run companies on providing viability gap funding. Bhujbal argued that all state government undertakings and corporations, including Mumbai Metropolitan Region Development Authority and MSRDC come under its jurisdiction and it was the state government's responsibility to make the requisite fund available for projects allocated by them.
Officials said the state government may be undecided on whether to go ahead with the project because the committee looking into the possibility of a coastal road project to replace the proposed sea link is yet to submit its report.
An MSRDC official told
Business Standard
: "MSRDC is prepared to provide VGF as it has sufficient funds. However, we have taken a serious objection against RSOPL for non-payment of Rs 1,634 crore (Rs 16.34 billion) by the July 3 deadline for financial closure."
The official said MSRDC will strictly adhere to the provisions of the concession agreement.
An RSOPL official, however, said: "The company is in discussion with MSRDC to sort out issues. We are keen to start the project.
"According to the concession agreement, the Worli Haji Ali sea link project needs to be completed in 42 months after the completion of all formalities."
According to the concession agreement, MSRDC is entitled to ask RSOPL to pay a penalty of Rs 10,00,000 per day for missing the deadline for financial closure.