Macroeconomic challenges in the US and Eurozone turbulence are matters of concern for India's information technology industry, Infosys said on Wednesday.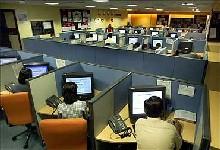 "The global macroeconomic environment is still uncertain. It is and should be a concern for the IT industry," said the Infosys CEO and Managing Director S D Shibulal said.

"There are definitely bigger worries. We remain very, very cautious", Shibulal said. "We need to be worried because the environment is not stable".

The US and Europe account for more than 80 per cent of revenues of the Indian IT industry.

He said clients are cautious, scrutinising their investment more closely and there is a delay in their decision-making and they are hesitating to take long-term decisions.

"In
this scenario, clients are looking for new opportunities for growth, accelerated innovation and increased returns on investments. Our strategic initiatives and organisation structure will enable us to build long term relationships with our clients and help them drive their business objectives".
Shibulal added: "At the same time, we are not seeing project cancellation or programme cancellation".
Chief Financial Officer V Balakrishnan said global currency market continues to remain highly volatile on the back of weak economic recovery in most developed markets.
"Our continued focus on adding measurable value to clients, coupled with our flexible financial model will enable us to make the right investments without compromising on high-quality growth", he added.
Balakrishnan also said the company is seeing stability in pricing environment as of now.