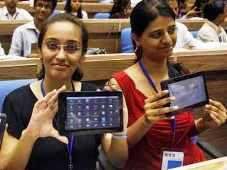 "I had bought the first version of Aakash for my little sister, a school student, but within five days she refused to use it.

"It was such an underperforming tablet," says Ankit Sharma, who runs his family restaurant in Navi Mumbai.

Sharma adds that instead of being an alternative computing device, the original Aakash tablet PC became a pain for users, primarily because it had a very low-powered central processing unit and the resistive touchscreen (unlike the capacitive screens on most smartphones and tablets today) that made navigation difficult.

"I tried to use the tablet to watch videos, read books -- anything that did not require real interaction with the device -- but it took forever for any web content to load, buffer and stream," Sharma said.

Asked about the new Aakash 2 that was unveiled recently, Sharma rues, "If only the company or the government had told buyers that within months of launching the original, there would be a better Aakash model in the market, we wouldn't have wasted our money on the original one."

In tablet PCs, screen resolution, computing power, battery and software functionality plus the apps are important, believe experts. Amit Goel, CEO, Knowledgefaber, a consulting and research firm, says, "Aakash tablet remains an attractive option for the government and education sector at the given price-points, but it will be able to achieve success only if it is able to meet specified quality requirements and qualifying tests."

As per Knowledgefaber estimates, players like Micromax, Karbonn and HCL estimated to sell about 350,000 units with majority of sales in the 7-inch category in 2012 -- though Micromax & Karbonn have entered the tablet market only in 2012.

Goel underlines, "A tablet  is a highly aspirational product. It's a 2nd computing machine for most.

"The game changes when you try to make it the first computing device for masses by lowering the cost.

"If it does not live up to the quality of service expected, it can backfire."

That's exactly what has happened with the original Aakash, which was designed, developed and manufactured by Datawind in partnership with IIT Rajasthan under the human resources and development ministry's National Mission on Education through Information & Communication Technology.

Aakash 2 corrects a few of the mistakes the first one had, with its 1GHz processor, 512 MB RAM, a 7-inch capacitive touchscreen and an upgraded battery that offers over three hours of normal usage.

That's a definite improvement from the original Aakash, which came with a 366 Mhz Connexant processor, 256 MB RAM and a resistive display screen which together slowed down the device's performance.

It runs on Android 4.0 operating system and has a front-facing VGA camera and built in Wi-Fi connectivity among other things.

Aakash 2 has been developed under the aegis of IIT-Bombay, supported by C-DAC in Pune and manufactured by Datawind.

To encourage adoption among students, the price has been fixed at Rs 1,130 with the government subsidising the cost by nearly a half.

Aakash 2's commercial version (Ubislate 7Ci) is available on Datawind's site for Rs 4,300 (Wi-Fi only model) and Rs 5,000 (Wi-Fi & GPRS model).

Datawind's commercial version of the original Aakash was called UbiSlate and retailed for Rs 2,999.

Yet, users like Shivangi Karanjikar, a second-year engineering student in Pune remains wary of the ultra-cheap tablet.

"I have heard many users (who bought the original device) complain about issues regarding overheating or frozen screens until the battery runs out, etc.

" "Though Aakash 2 has improved the hardware, I am still hesitant to invest in it," she reasons.

Karanjikar, who uses a Samsung feature phone (no data connection) and does not own a laptop, adds, "I have seen many Android tablets in stores that cost between Rs 5,000 and Rs 6,000 and have plenty of apps to download educational content.

"I hope to soon buy an affordable but branded tablet device that I can use as my main computing device."

For Aakash 2, IIT-Bombay has developed applications for engineering students including i3D-modelling, C++ programming, remote and collaborative training applications, robotic control and live assessment tools.

This has caught fancy of users like Kshitij Kalbag, a final-year student of Modern College of Engineering in Pune.

"Look at the upgrades -- a front-facing camera, extended battery life, Android 4.0 OS (the first tablet shipped with Android 2.2), twice as much RAM (512 MB), and three times as much processing power (1 GHz).

Even if there is no great content bundled, as an internet-enabled Android tablet PC, Aakash 2 offers a fair deal," he says.

Earlier this year, Datawind had announced its devices would come pre-installed with GetJar app store, giving customers access to over 3,50,000 free applications for Android devices from over 3,95,000 registered developers.

While consumers remain undecided about the virtues of the latest affordable tablet, Datawind claims it is all set to supply 1,00,000 units of Aakash 2 to IIT-Bombay to be distributed to engineering and college students.
Image: Akash tablet.