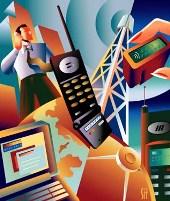 The Telecom Commission, the highest policy-making body of the department of telecommunications, has asked Telecom Regulatory Authority of India if there is an alternative option for fixing the reserve price of spectrum for auction.

It has also questioned the appropriateness of Trai recommending base prices for auctions in the 900-MHz and 700-MHz bands without awaiting the outcome of the auction in the 1,800-MHz band to be conducted by August 31.

The commission has disagreed with another key proposal -- that of allowing operators a deferred payment scheme after the auction.

It said the pre-1999 experience did not favour deferred payment and further securitisation of instalments over a 12-year period did not appear practicable.

In a press conference on Thursday, chiefs of GSM operators Bharti, Vodafone, Idea Cellular, Uninor and Videocon said the Trai recommendations would lead to a 100 per cent rise in consumer tariffs.

They demanded an 80 per cent reduction in the base price.

Bharti Airtel India and South Asia chief executive officer Sanjay Kapoor said, "We believe they (Trai's proposals) ring the death knell for the Indian telecommunications industry, and also lead to prolonged disputes and litigation."

Vodafone India Chief Executive Martin Pieters said, "One thing is very clear: if you create artificial scarcity then the price is not a real market-discovered
price. And, that is exactly what has already happened in the 3G auction."
Trai had recommended on April 23 a reserve price of Rs 3,622 crore (Rs 36.22 billion) per MHz in the 1,800-MHz band, 10 times higher than the cost of licences that came bundled with 4.4-MHZ spectrum in 2008.
The Telecom Commission's views have been sent to the regulator for its comments.
Trai will respond to the questions, after which the commission will take a final call on the auction policy.
That would be vetted and cleared by a ministerial group headed by Finance Minister Pranab Mukherjee.
The commission has expressed reservations over the proposed liberalised regime in which spectrum usage would be delinked from the service offered.
It has opined the 'liberalised' usage would need detailed study on the use of different technologies in the same band.
Trai has also been asked to clarify the basis on which the price has been derived and its impact on tariffs, telecom penetration and economic gains.
It has also been asked to clarify the basis for recommending the auction of one slot of five MHz even when additional slots are available after the provision for spectrum refarming.