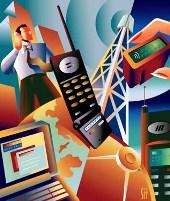 The Central Bureau of Investigation has registered a case in a Delhi court against Bharti Airtel, Tata Communications and Singapore Telecommunications for allegedly causing a loss of about Rs 48 crore (Rs 480 million) to the government since 2004, by illegally providing international long-distance services.

All three telecom companies have been booked on charges of criminal conspiracy and cheating under the Indian Penal Code and the Indian Telegraph Act for violating the licensing norms of the department of telecommunications.

A first information report has been filed in a local court on a complaint by the ministry of communications and information technology.

When contacted, Bharti Airtel did not comment. Tata Communications said it would not comment on speculation.

The complaint said it had come to the notice of DoT that there was an illegal international long-distance service provider, M/s Singapore Telecommunications, which was selling unauthorised ILD services to Indian customers since 2004
without obtaining the requisite licence from DoT, in connivance with Bharti Airtel and Tata Communications.
It said the Singapore company had offered and provided unauthorised ILD services to Indian customers without obtaining the requisite licence.
Sources said the actual loss could be calculated after getting the amount collected by illegal ILD Services provided from various Indian customers.
CBI has said in the FIR that "facts in the complaint disclose commission of offences under Section 120-B, read with 420 IPC and section 20 of the Indian Telegraph Act, against M/s Singapore Telecommunications, M/s Bharti Airtel Ltd and M/s Tata Communication Ltd. A regular case has been registered for investigation."