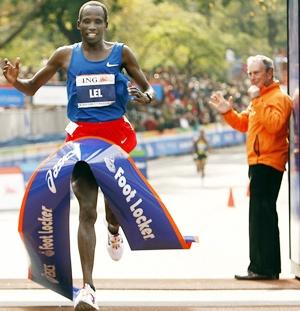 Tata Consultancy Services said on Thursday it has partnered New York Road Runners for the New York City marathon.

Under the eight-year association, TCS will take on the role of Title Sponsor of the New York City Marathon in 2014, the software major said in a statement.

No financial details were disclosed.

Beginning 2014, the race will be called the TCS New York City Marathon and is part of a year-round premier partnership between TCS and NYRR to provide support for the NYRR 5-Borough Series and key heritage events, it added.

"TCS won us over with their commitment to our sport and to elevating the health and well-being of our community, their technological excellence and their belief in the infinite potential in front of us to jointly help and inspire people through running," NYRR President and CEO Mary Wittenberg said. TCS has been a technology consulting partner for NYRR since 2010.

It previously developed mobile apps for the 2013 NYC Half and will create a new app for the 2013 Marathon, helping participants to track runners and to get race results, information on the event, and tips for training.

As part of the new partnership, beginning November 5, 2013, TCS will be a principal sponsor of each of NYRR's major five borough events and its key heritage events, including the Oakley New York Mini 10K, the Fifth Avenue Mile and the Midnight Run.

It will also support NYRR's youth and community programmes.

"This partnership presents a great way for us to accelerate our engagement with communities in the New York area and across North America to raise awareness about health and fitness," TCS CEO and MD N Chandrasekaran said.
Photograph: Mike Segar/Reuters