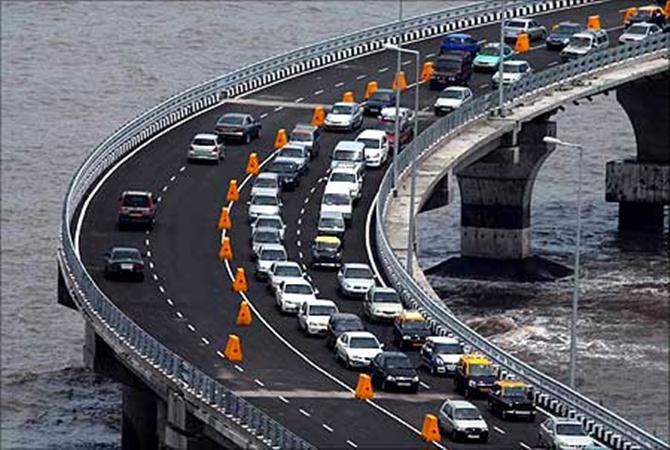 Indian Highways Management Co is in talks with National Payments Corporation for e-tolling
In a bid to remove bottlenecks at toll plazas and ensure hassle-free collection of toll, Indian Highways Management Company Limited is in talks with National Payments Corporation of India to bring out a model for nationwide rolling of e-toll (electronic toll).
Having missed the December 2015 deadline for e-tolling, the ministry of road, transport & highways is now trying to introduce e-tolling across India by March 2016.
"We want to bring out a model, which is user-friendly as well as widely acceptable. Since NPCI has expertise in this field, we are in talks with them to bring a sustainable model for us.
"They are likely to submit their report by next month," said sources.
The intention is to have a model with a single-clearing house.
ICICI Bank and Axis Bank are currently enrolled for electronic toll collection and both banks have separate clearing houses.
FASTag -- a radio frequency identification device that enables cashless transaction at toll plazas — is already operational on the Delhi-Mumbai, Delhi-Chandigarh and Bengaluru-Chennai highways.
There are 35 toll plazas spread across these three stretches with a user base of 2,200.
Oddly enough, despite its features, FASTags were not as popular as the ministry had anticipated.
The government may enrol more banks and set up a single-clearing house for popularising FASTag among road users.
According to sources, the government will implement nationwide ETC based on passive radio frequency identification by March 2016. Under the proposal, there will be at least one dedicated lane in toll plazas.
The ETC system offers the convenience of electronically paying toll at any toll collection point through a single prepaid account.
For this, the equipment installation has been completed at 248 fee plazas and integration with the central clearing house at 179 fee plazas.
Vehicle owners currently use the prepaid account with ICICI Bank and Axis Bank.
Upon successful registration, the bank issues a prepaid FASTag, which identifies the vehicle.
FASTag is affixed on the vehicle's windshield and whenever the vehicle crosses a toll plaza, the applicable toll is deducted automatically from its prepaid account.
The ETC transaction generated at toll plazas is sent to the central-clearing house for debiting appropriate toll fee from the account of registered vehicles and crediting the same to the respective toll collection agency.
Road users also get an SMS alert for each ETC transaction.
To implement ETC across the country, the ministry has incorporated IHMCL with equity participation from National Highways Authority of India concessionaires and financial institutions.
Currently, toll operations in India are mostly manual and toll receipts are issued with the help of computers.
OPEN THE FLOODGATES
Having missed the December 2015 deadline for e-tolling, the ministry of road, transport & highways will implement nationwide electronic toll collection based on passive radio frequency identification by March 2016
Under the proposal, there will be at least one dedicated lane in toll plazas
The government might enrol more banks and set up a single-clearing house for popularising FASTag among road users
The electronic toll collection system offers the convenience of electronically paying toll at any toll collection point through a single prepaid account
For this, equipment installation has been completed at 248 fee plazas and integration with the central clearing house at 179 fee plazas
The image is used for representational purpose only. Photograph: Sahil Salvi