Satyam Computer Services Ltd (rebranded as Mahindra Satyam to reflect its ownership by Tech Mahindra), is expecting to garner close to $20 million (Rs 90 crore) from the Federation Internationale de Football Association World Cup, scheduled to begin in South Africa from June 11.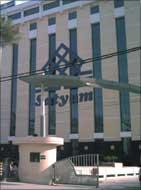 The Hyderabad-headquartered information technology outsourcing provider is the first Indian company to sign with Fifa, the world soccer body, as a sponsor and official IT provider for the 2010 and 2014 editions of the world cup tournament.
When asked, Sridhar Maturi, global head (sports marketing and communications), Mahindra Satyam, refused to confirm the revenue figure.
"Even during the crisis (founder Ramalinga Raju confessing to the multi-year accounting fraud), we had successfully tested our processes and web-based solutions at 10 stadia that hosted the Fifa Confederation Cup in South Africa last year. Now, we are fully geared up for the world's biggest football extravaganza," Sridhar told Business Standard.
Satyam, which incorporated its sports division in 2007, will offer value-in-kind (products or services provided by sponsors as part of the sponsorship contracts) from its Bangalore and Chennai centres, besides onsite support from its Zurich facility.
"At present, around 150 associates (as staffers are called at Mahindra Satyam) and 15 from Zurich are working 24x7 on the Fifa engagement.
All these associates will be stationed in South Africa during the event," he added.
As part of the Fifa deal, which has scope to extend, based on Mahindra Satyam's performance, the company has developed event management solutions systems with various software modules focusing on areas such as accreditation, transportation, volunteer management and space and material management.
"These solutions will enrich the experience of all fans arriving in the stadia to watch the 64 matches and ensure seamless movement of all the delegates, staff and volunteers.
Through these applications, we will be managing 250,000 accreditations and manage 130,000 volunteers, besides distributing over three million tickets online," Sridhar said.