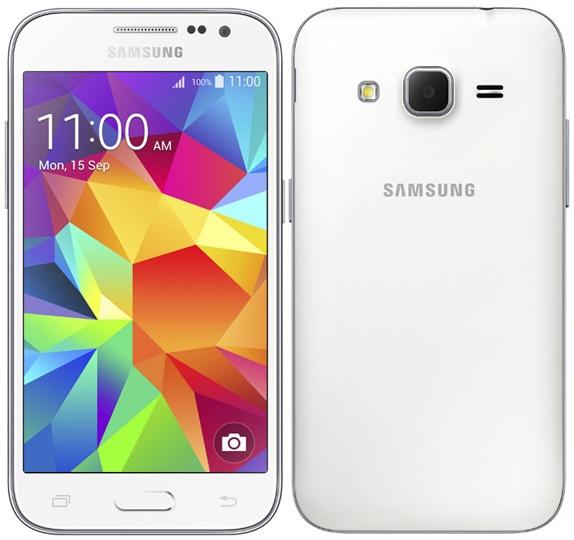 Image: Galaxy J1 4G. Photograph, courtesy: Samsung
Facing growing competition from brands like Micromax and Xiaomi, Samsung on Monday launched the Galaxy J1 4G - to be priced at Rs 9,900 in India - as the Korean electronics giant looks to protect its turf in one of the world's fastest growing smartphone markets.
It launched two other 4G enabled smartphones - Galaxy Grand Prime 4G and the Galaxy Core Prime 4G.

Samsung also unveiled its slimmest Galaxy handset -- the Galaxy A7, priced at Rs 30,499. Galaxy A7 is available in India from today, while the other three smartphones will hit the domestic market from the second week of March.
The firm also unveiled a range of products including the world's first convertible refrigerator, its first tablet for enterprises, SUHD TVs and washing machines at Samsung's annual South West Asia Forum 2015.
"In 2015, we plan to introduce path-breaking technology across different categories of products, which will enhance consumer experience and strengthen our position in the market," Samsung India Electronics President and CEO Hyun Chil Hong said.
Samsung will continue to manufacture its products in India reinforcing its commitment to the government's 'Make for India' programme, he said. In the past 20 years of operations in India, the company has set up 2 manufacturing plants and 3 R&D facilities employing close to 45,000 people, he added.
On the launch of 4G handsets, Samsung India VP (Marketing, Mobile and IT) Asim Warsi said: "India is at the cusp of its digital revolution journey and we expect 4G technology to rise and push internet usage to an unprecedented level."
Consumer demand is constantly shifting towards devices offering multi-tasking capabilities, 24X7 data connectivity with increased video consumption and real-time mobility solutions which enable global interactions, he added.
"Samsung Electronics is poised to drive the next step of smartphone evolution by offering a comprehensive portfolio of quality 4G LTE enabled devices and propel the next wave of business and economic growth," Warsi said.
Galaxy A7 has 5.5 inch screen, 13 MP rear camera and 5 megapixel front camera. The handset has 16GB internal memory and 2GB RAM. It is supported by 2,600 mAh battery and Qualcomm's Snapdragon Octacore processor.
The firm's affordable 4G handset Galaxy J1 sports a 4.3 inch display. It has a 5MP rear camera and 2 MP front-facing camera. The camera has innovative selfie features which give more options and flexibility to capture favourite moments.
Galaxy Grand Prime and Core Prime feature a 5-inch and a 4.5-inch screen respectively. They sport a 5 MP rear camera. Without revealing the prices for the handsets, the company said they will be priced between Galaxy A7 and Galaxy J1.
Samsung also unveiled its first tablet designed for the enterprises -- the Galaxy Tab Active with a ruggedised, portable design for professionals.
Besides, it launched Smart Signage TVs, an innovative TV solution designed for small and medium businesses (SMBs) and small office/home office (SOHO) owners in India. Samsung said it has launched world's first convertible refrigerator with digital inverter compressor.
"The world's first patented Dual Fan Technology allows independent temperature control of the freezer and fridge with two separate fans," it said.
The company also launched the NEO series of digital inverter split air conditioner that consumes up to 60 per cent less electricity and cools more quickly than conventional ACs. It also unveiled ActivWash+ machines, designed to save time and make doing laundry easier.
Samsung also launched the Joy Smart TVs, which comes with built-in wifi that lets the users access internet and browse their favorite websites through its Smart Browser.