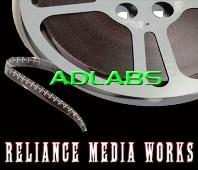 Reliance MediaWorks and China-based Galloping Horse America are set to part-own some of the businesses of Hollywood film-maker James Cameron's Digital Domain Productions through a $30.2 million bid.

The 'winning bid' was submitted with Galloping Horse, a leading firm in China engaged in film and TV financing, production, distribution, advertising and publishing, Reliance MediaWorks said in a statement on Monday.

Digital Domain Media, which has churned out blockbusters such as Titanic and Avatar, had filed for bankruptcy protection on September 11.

The sale is subject to execution of an asset purchase agreement and bankruptcy court approval in the US, the hearing for which is scheduled for Monday.

"A joint venture, led by Galloping Horse America, LLC in partnership with Reliance MediaWorks has submitted the winning bid to acquire the visual effects, Mothership Media and certain other businesses and assets of Digital Domain and subsidiaries for $30.2 million at a September 21, 2012 auction in New York," the RMW statement said.

While RMW, part of Anil Ambani group, will hold 30 per cent stake, the majority would remain with Galloping Horse in the Digital Domain joint venture.

The two companies will acquire all assets constituting the businesses of Digital Domain in feature films, advertising, visual effects, commercial production, studios in the US and Canada and a co-production stake in the feature film Ender's Game, the statement said.

The businesses will continue to operate in the normal course, with the joint venture assuming ownership upon court approval, it added.

Shares of Reliance MediaWorks were trading higher by 6.28 per cent at Rs 72.80 on the Bombay Stock Exchange at 1112 hours.

"We have had a wonderful working relationship with Digital Domain over the years and we could not be happier to take it further through the joint Galloping Horse -- Reliance acquisition," said Venkatesh Roddam, CEO, Film & Media Services, RMW.

"We are looking forward to working with Digital Domain employees and customers to make the operation better and stronger," he added.

Ivy Zhong, vice chairman and managing director of Beijing Galloping Horse Film said: "We are thrilled to have found a partner in Reliance MediaWorks that is as committed as we are to ensuring Digital Domain's continued excellence and success."

Digital Domain CEO Ed Ulbrich said:
"Our new partners have incredible strength and reach in the global entertainment marketplace.
"They are powerful strategic partners that understand our business and our clients' business.
"Their support enables us to continue creating the highest quality entertainment and advertising and put us in the strongest financial position that Digital Domain has ever been in."
In July last year, RMW had partnered with Los Angeles-based Digital Domain Productions for visual effects and 3D Stereo Production services studios in Mumbai and London.
Founded in 1993 by James Cameron with Stan Winston and Scott Ross, digital production company Digital Domain has delivered innovative visuals for more than 90 movies, including
Titanic
,
Pirates of the Caribbean: At World's End
, the
Transformers
trilogy and
TRON: Legacy
.
It has facilities in California and Vancouver, including a virtual production studio.
It also has a subsidiary, Mothership Media, with talented directors to create from start to finish commercials, video games and campaigns across platforms.
Beijing Galloping Horse and Reliance MediaWorks have a combined enterprise value of more than $25 billion, complementary offerings and presence in multiple worldwide geographies strategic to the entertainment industry.
Searchlight Capital Partners had submitted a stalking horse bid for the Digital Domain and Mothership assets for $15 million, the statement said.
Under the bankruptcy code, DDMG was required to engage in the process of seeking the highest and best bid for these assets in accordance with the bid procedures approved by the court.
"We are so pleased that the visual effects businesses will be continued under the strong financial and strategic ownership of Galloping Horse and Reliance," said Mike Katzenstein, DDMG, Chief Restructuring Officer.
He further said, "I would also like to recognise Searchlight Capital for agreeing to be the stalking horse bidder in the auction. I am certain that their commitment to the company under the most urgent of circumstances, helped save the business and allowed for the robust auction that led to this result."
DDMG filed voluntary petitions for relief under Chapter 11 of the Bankruptcy Code in the US Bankruptcy Court for the District of Delaware on September 11, 2012 and ancillary relief in Canada, pursuant to the Companies' Creditors Arrangement Act in the Supreme Court of British Columbia, Vancouver Registry on September 18.