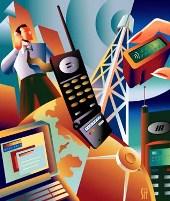 Regulatory changes rarely bring cheer to the telecom sector, as most of the times changes have only spelt financial drain for the players.

But, this seems to be changing if Monday's announcement by the Telecom Regulatory Authority of India (Trai) to lower the caps on roaming tariffs is anything to go by.

Earlier, roaming tariffs were capped at Rs 1.40 a minute for outgoing local calls, Rs 2.40 a minute for STD and Rs 1.75 a minute for incoming calls.

These caps have now been reduced. However, the financial impact of this decision will be negligible on revenues and earnings of incumbent operators, as the headline roaming tariffs offered by them are lower than the new cut-off rates.

Even though the National Telecom Policy of 2012 envisages free national roaming, it's interesting that the regulator has chosen not to do this in one shot and has given operators flexibility to migrate to a lower tariff regime gradually.

This is a big positive, claim analysts, as it indicates that the regulator is balancing the interests of consumers and operators.

That's not all -Trai has also allowed operators to offer tariff vouchers and plans for roaming,
which were earlier banned.
According to industry data, 13 per cent of subscribers utilise the roaming services and contribute 8.8 per cent of total mobile revenues for GSM operators.
Analysts at PhilipCapital expect an earnings per share impact of Rs 0.40 (2.5 per cent of EPS) for Bharti Airtel and Rs 0.25 (four per cent of EPS) for Idea.
Rumit Dugar of Religare Institutional Research says there are costs associated with roaming as operators have coughed up large sums of money for circles like Delhi and Mumbai and if roaming were to become free then there would be financial implications for them.
Therefore, modalities would need to be worked out before rolling out free roaming.
Listed telecom stocks moved up on Monday after Trai's notification because the market is interpreting it as a sign of normalcy returning to the sector.
Kotak Institutional Equities says the event is significant, at a more philosophical level, as it is a rational outcome after a lot of noise (political and media) on this issue in the past one year.
Analysts believe the regulator has adopted a consultative process and factored in roaming cost inputs from all operators in the industry before revising tariffs.
Analysts see regulatory overhang easing gradually over time.