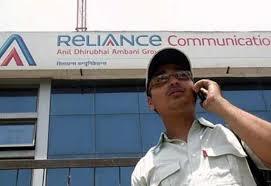 Reliance Communications has initiated the process to monetise its real estate assets across the country, aiming to raise Rs 5,000 crore (Rs 50 billion) through this.

The company will use the proceeds to part-repay its debt, which stands at Rs 34,000 crore (Rs 340 billion) even after the recent qualified institutional placement of its shares. An RCom board committee recently approved the sale of these assets.

The company has held meetings with top real estate consultants like CB Richard Ellis, Jones Lang Lasalle and Knight Frank, which will soon be asked to find buyers for the 10 properties that are to be sold in six to 12 months.

The 10 properties on outright sale include the company's 3.7-acre Delhi office in prime central district near Connaught Place, which is expected to fetch Rs 700 crore (Rs 7 billion).

Also on the list are a property in Kolkata's Chowringhee Road (valued at over Rs 150 crore or Rs 1.5 billion); Navi Mumbai's 7 Towers, where it has over 388,000 square feet of space (valued at Rs 200 crore or Rs 2 billion); 19 acres in Bangalore; properties in Ambattur near Chennai; 226,000 square feet of space in Hyderabad's Hi Tech City; properties in Tirupati and Gujarat's Anjar; and 150 flats in Navi Mumbai's posh Seawoods residential property (valued at Rs 300 crore or Rs 3 billion).

The total valuation of these properties -- over 70 acres of land and 1.3 million square feet of space -- based on presentations made to real estate companies, comes to Rs 2,000 crore (Rs 20 billion).

RCom is also finalising deals with some key real estate developers for setting up commercial and residential space, besides an IT park, in Dhirubhai Ambani Knowledge Centre on the outskirts of Mumbai.

The company has permission to develop 11 million square feet of space, of which it has already built about two million square feet in DAKC.

In the first phase of its new project, the company will develop another 4.5 million square feet.

It has told real estate consultants it expects to raise over Rs 3,000 crore (Rs 30 billion) from this.

When contacted, a spokesperson for RCom declined to comment on the issue.

The real estate deal is part of the company's strategy to reduce its debt and, thereby, interest burden.

Last week, RCom had raised over Rs 4,808 crore (Rs 48.08 billion) through a QIP. Using this (and an additional promoter contribution of Rs 1,300 crore or Rs 13 billion in the QIP), it lowered its debt from Rs 40,000 crore (Rs 400 billion) to Rs 34,000 crore (Rs 340 billion).

With the funds raised by selling real estate, it will be able to further lower its debt to below Rs 30,000 crore (Rs 300 billion) which will help it save up to Rs 1,300 crore (Rs 13 billion) of interest costs annually.

The company is also looking at selling its direct-to-home business for an estimated Rs 2,000 crore (Rs 20 billion) and the submarine cable business of Global Cloud Xchange (earlier called Globalcom) for around Rs 5,000 crore (Rs 50 billion).

RCom is not alone in raising funds through real estate monetisation.

Keeping it company are Glaxo, which is looking to sell its 60-acre land in Thane for Rs 1,600 crore (Rs 16 billion) to Rs 1,800 crore (Rs 18 billion).

Also, to reduce its debt burden, DLF sold its land in Mumbai's Worli to the Lodhas for Rs 2,200 crore (Rs 22 billion).

While multinational Bayer sold its land in Thane to Kalpa Taru builders for Rs 1,200 crore (Rs 12 billion), carmaker Premier sold its land in Mumbai's Kalyan area to Runwal builders for real estate development.

In most of these deals, buyers are real estate companies, which are ready to pay hefty price, given that land supply in the city is very limited.
Please click here for the Complete Coverage of Budget 2014 -15