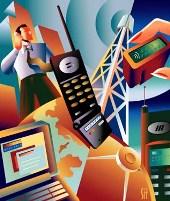 Sistema Shyam Teleser-vices boss Vsevolod Rozanov predicts rates in the mobile space will double because of the higher price of spectrum to be paid through an auction process by operators.

Sistema Shyam TeleServices Ltd is a venture involving equity participation by Sistema of Russia, the Russian Federation and the Shyam Group of India.

The company brought the MTS brand into India under a brand license agreement with Mobile TeleSystems.

Breaking his silence after the Supreme Court cancelled all its licences, Rozanov, president and CEO of Sistema Shyam told Business Standard: "One has to be ready with the consequences of the judgment.

"Rates will surely double. Not what some have said, that it will be only 20 per cent.

"I think rates will hit at Rs 2 per minute, as companies now have to pay higher price for spectrum in auction.

"Earlier, the new operators were not making money from low spectrum price but passing on the benefit to consumers. That is over now."

Rozanov said the decision of the court had serious consequences for not only operators but
tower operators, network operators and other vendors who depend on them for business.
On Sistema's plan, Rozanov said it would follow a dual policy.
It will continue to look at legal options while participate in the auction.
The company is in the process of filing a review petition against the judgment.
However, he said, the key concern was on abruptly stopping services after four months or wind-down operations.
"Our main concern is, if we have to wind down operations, its impact on customers and our vendors.
"We can't switch on and switch off networks; it takes many months for networks to stabiles. So, something has to be done for serious players who want to stay," said Rozanov.
The Sistema chief also added they had invested $ 3.1 billion in India operations.
"As far as I know, our shareholders have no intention of writing off any investment," added Rozanov.
However, the Sistema boss said the company was eager to bid for the auction and also for getting additional spectrum, already due in many circles.
"We would like to bid.
"However, it will depend on the rules of the auction. We will bid at whatever price," he said.