They have been neighbours so far, with their Indian corporate headquarters in Mumbai next to each other. Now, they will become business partners.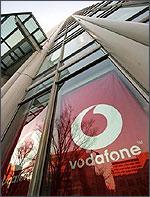 In a suprise move, Ajay Piramal's Piramal Healthcare has made its telecom debut by picking up a 5.5 per cent stake in Vodafone Essar for $640 million (Rs 2,856 crore).
The deal values the equity of the second-largest telecom company in the country, Vodafone Essar, at $11.6 billion (nearly Rs 52,000 crore). The company has 16 per cent market share in India and a subscriber base of 141 million.
The value of the deal indicates the sale has been done at a slight premium to the price at which Vodafone bought back shares from Essar. Earlier this year, as part of pre-agreed negotiations, Vodafone had agreed to buy out the entire 33 per cent stake of its earlier JV partner in India, the Ruias of Essar.
Vodafone is now selling half the 10.97 per cent stake it bought from one of the Essar group companies, ETHL Communications Holdings, to Piramal Healthcare. Vodafone had agreed to buy the 10.97 per cent stake at $1.26 billion, thereby valuing 5.5 per cent stake at $640 million.
During that time, Vodafone had said it would transfer 1.35 per cent stake to an Indian investor to remain compliant with the existing FDI norms in the telecom sector. Analjit Singh and IDFC are the other shareholders in Vodafone Essar. 
Essar, which is yet to transfer this stake to Vodafone, has already agreed it will transfer back the shares either to Vodafone Plc or any company it nominates. The payment for this deal is expected to be done by February 2012. "Half of the money is already paid for," said Simon Gordon, a spokesperson for Vodafone Plc.
Piramal will have the option of exiting the company when Vodafone lists its India operations, or sell it back to Vodafone. Sources said if the IPO did not materialise within two years, Piramal could sell its stake back to Vodafone for around $900 million - a cool 40 per cent return on investment.
For a cash-rich pharma company, which sold its solutions business for $3.7 billion to US giant Abbott, an investment in Vodafone Essar seems strategic. "All the money Piramal Healthcare made from selling its solutions business to Abbott has been locked in for the last one-and-a-half year.
This is a good opportunity to invest at the right time," said Ranjit Kapadia, senior vice-president, Centrum Broking. The deal has also dispelled the myth that telecom valuations have taken a huge beating since the deal between Vodafone and Essar in 2007. Back then, Vodafone acquired Hutchison's stake at 16 times its Ebitda, and has only started making profits from its India investment in the last quarter.
"The price seems to be okay. Clearly, it looks like there is some premium involved but I don't think it is anything out of the line," said Mahesh Uppal, director, ComFirst.
This move would mean the parent company of Vodafone Essar might not have to go for an initial public offering immediately, in order not to breach Indian FDI regulations. Under these regulations, after Vodafone acquires the stake of its joint venture partner Essar, it would breach the 74 per cent ownership limit in the telecom sector.
Vodafone has a direct holding of 42.3 per cent in Vodafone Essar. After it legally acquires 33 per cent in Essar, its stake would be 75.3 per cent.
The company told Business Standard that the deal would give them flexibility to structure their business differently, and headroom to go for an IPO at a different date. It would be able to take into consideration stock market conditions, which are very volatile now.
Vodafone hopes its Rs 11,000 crore (Rs 110 billion) tax dispute would be cleared by the end of the year or early next year. "We would look at an IPO then, though it is not necessary we would go for it then," said Gordon.