The India PC market is expected to see sales of 11.15 million units in the 2011 calendar year, according to a study.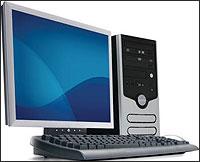 According to market research, consulting and advisory services firm CyberMedia Research, sales are expected to accelerate further by 14 per cent to 12.71 million units in 2012.

The study pointed out that with nearly 10 million unit sales in 2010, the combined installed base of desktop and notebook personal computers in India is estimated to have crossed 52 million units as of December 31, 2010.

The current installed base of personal computers translates into one computer for every 25 Indians, doubling the per capita PC availability in just four years. At the end of 2006, there was approximately one computer for every 50 Indians.

The first tablet computer was launched in India in November, 2010. Since then, the market has seen a slew of launches by both MNC and Indian players.

While models like Cisco's Cius and RIM's Blackberry Playbook tablets are focused on the enterprise user segment, the Samsung Galaxy Tab and Reliance 3G Tab manufactured by Chinese
telecom manufacturer ZTE are focused on the consumer segment.
The firm expects tablets to become the new battleground as major MNCs and Indian vendors and operators race to capture a share of this emerging market.
The first half of 2011 witnessed subdued sales in the Indian PC market on account of lower offtake by the government, public and private sector. Lower consumer demand also added to the slack sales.
This situation is expected to correct itself in the July-September, 2011, quarter as strong demand from the education sector is usually witnessed at the commencement of the new academic session.
Consumer buying is also expected to be higher in the July-December period of 2011 on account of festive season buying.
Domestic demand in the large and SMB enterprise segments is expected to remain healthy as well.
However, a 'wait-and-watch' buying sentiment may continue in the corporate sector due to the ongoing uncertain economic environment in the US, Europe and Japan.
The other major development with a likely impact on companies' shares of the PC market was HP's announcement on August 18-19 that it was spinning off its PC business, the study added.