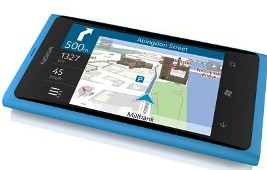 A day after Apple sent out invitations to a September 12 product event in San Francisco, where the company is expected to unveil a redesigned iPhone, Nokia and Microsoft unveiled their own smartphone range -- Lumia 920 and Lumia 820.

The Lumia 920 comes with a dual-core 1.5 GHz processor, 32GB of device storage, supports wireless charging, sports a 4.5-inch display and Nokia's PureView eight-megapixel camera. Nokia Lumia 820 is a mid-range smartphone that comes with an exchangeable shell design.

Both phones are expected to start shipping in select markets later in the year.

The company will announce pricing and specific roll-out dates country by country when sales are due to begin.

Nokia CEO Stephen Elop emphasised China is now the biggest market for Lumia phones, adding that Nokia's intention is 'future disruption'; this will entail work on battery, display and transforming people's thinking on mobile device "ecosystem".

Later, when Steve Ballmer, CEO, Microsoft, was introduced on stage by Elop, he claimed, "One year from now, we should see close to 400 million new devices running Windows 8 operating systems.

"That means Lumia, that means Surface, that means a number of new devices you saw introduced in Berlin last week across phones and tablets."

But, Lumia 920 and 820 are not the first Windows-8  smartphones. Last week, Samsung announced its upcoming Windows 8 device, ATIV S, stealing some of the thunder from the Nokia-Microsoft event.

The South Korean electronics major also underlined it intends to challenge both Apple's iPhone and Nokia-Microsoft via multiple mobile-platform offerings.

Anshul Gupta, principal research analyst, Gartner, feels that the effect of Windows 8 devices on Nokia's bottom line can be factored only in 2013.

He says, "As the company launches the smartphones, the real impact will be visible only by next year.

"Whether devices are accepted by buyers, whether the software appeases the users, and how Nokia apps on the Windows platform do in growing markets like India will determine Nokia's survival."

Gupta also believes that Windows 8 smartphones have a better chance over iOS and Android devices of being accepted by enterprises due to the in-built Microsoft support.

The Finnish major, which has seen its market share erode across the globe, is aiming to reestablish self with the new range of Windows 8 smartphones.

But,
analysts warn that reclaiming its share in the smartphone market will not be an easy task, for Nokia is widely seen as a latecomer and is banking heavily on an OS yet to prove its worth to customers.
"There's no plan B at Nokia. If the Windows 8 smart devices fail to impress the customer, then it will be the end of the road for Nokia," says Rahul Gupta, an independent telecom expert.
He also adds that Indian customers are primarily wooed by a smartphone's design followed by its price.
"If the Nokia Lumia range (Windows 8 devices) can manage to keep few models priced less than Samsung's Galaxy and Apple's iPhone, then it can have a fair chance.
Given a choice between a Lumia device at Rs 35,000-Rs 40,000 and a top-end Samsung or Apple smartphone, the consumer will always go for a proven device and not Nokia," reasons Gupta.
Another analyst, Richard Guppy of Strategy Analytics points out that the Nokia-Microsoft partnership doesn't look too hopeful. Guppy writes in his blog: "I would say its partnership with Microsoft has been a slow and difficult process.
"That leaves Nokia vulnerable, and a potential target for acquisition."
The Indian smartphone market is set to touch 20 million unit shipments in 2012 and IDC estimates suggest that India's market share for smartphone shipments will rise to 2.5 per cent in 2012 from 2.2 per cent in 2011.
"This figure is expected to increase to 8.5 per cent by 2016, making India one of the countries that will see the largest growth in the smartphone segment," notes IDC.
The Finnish telecom giant, which in 2008 enjoyed more than 40 per cent of the global mobile phone market, is struggling to maintain its position.
Nokia no longer provides its global market share figures, but has reportedly now seen the number drop below 20 per cent. Nokia faces fierce competition from Apple's iPhone and other makers using Google's popular Android software, including Samsung Electronics and HTC of Taiwan, and is also being squeezed in the low-end by Asian manufacturers making cheaper phones.
In an official communique to the stock exchange in April, Nokia detailed that in the first quarter of 2012 it sold more than two million Lumia devices at an average selling price of euro 220 and saw a sequential growth in Lumia device activations every month since starting sales of the Lumia devices in November 2011.
The Windows Phone ecosystem, claimed Nokia, is also attracting developers and has expanded rapidly with more than 80,000 applications available.