Modi logs on to Sina Weibo, microblogging site part-owned by Alibaba; gets a mixed welcome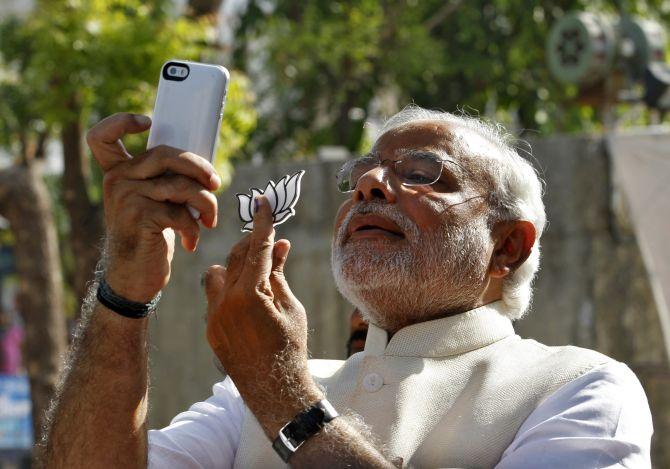 Prime Minister Narendra Modi, who is set to visit China later this month, may now give competition to the likes of Tom Cruise, Emma Watson, Mike Tyson and Samuel Jackson on Sina Weibo, often referred to as the Twitter of the East.
However, Modi, already prominent on Twitter with 12 million followers, didn't really have a smooth debut on the Chinese microblogging site.
While the PM made an enthusiastic announcement on his official Twitter account, saying, ''Hello China! Hope to interact with Chinese friends through Weibo'', many bloggers hit out at him.
''Hello Indian brother! Tibet belongs to China'', ''do not bully Pakistan, that is our little brother. Hitting Pakistan is like hitting us'', etc, were among the comments that greeted Modi. Another addressed the PM as ''President Modi'', saying, ''delineation of borders is a prerequisite''.
Then, making it sound witty, a blogger referred to the posts as 'bloodbath'.
He said, ''Hello PM! Hope you can quickly get used to the bloodbath that is Weibo! Looking forward to interacting with you.
The kinder comments included, "We're taught to be polite and humble. Peace loving is in our blood, which is absolutely Chinese culture.
"You are most welcome in China. Looking forward to your visit in May. All the best." Another blogger said with a hint of sarcasm, "Foreign prime minister's Chinese microblog", and asked, "Where is the Chinese microblog of China's premier?"
Chinese leaders usually don't like to come on to social networking platforms. Incidentally, Sina Weibo, the Nasdaq-listed company in which leading e-commerce player Alibaba owns 32 per cent, does not provide for India in the list of countries at the time of registration.
But, one can use the "others" option while selecting a city and "overseas" when a country name is not listed.
Estimates suggest Sina Weibo has over 500 million users.
Launched in 2009, the company began trading publicly in April 2014.
Social networking in China has been controversial, with the country blocking most services, including Twitter and Facebook.
Even the first Weibo (which literally means microblogging) service Fanfou was shut down after riots in 2009. Subsequently, Sina Corporation launched the tested version of Sina Weibo.
Sina Weibo rivals in China include Renren, Tencent Weibo and Tudou.
Weibo users include movie stars, business tycoons, media barons, athletes, and foreign dignitaries, mostly from Asia.
But in recent times, Hollywood actors and sports personalities too have taken to the Chinese site. In fact, a recent report pointed out that Hollywood actor Tom Cruise had more followers on Weibo than on Twitter.
Then there are others such as actor Samuel L Jackson who made a debut on Weibo ahead of the domestic release of 'The Avengers'. The same was the case with Emma Watson, who made an entry before the premiere of Harry Potter and the Deathly Hallows-Part 2, another report said. Mike Tyson is also a member.
Other political figures, who are on Weibo include British prime minister David Cameron, who has 800,000 followers, .
Others are Venezuelan president Nicolas Maduro and former Australian PM Kevin Rudd. In spite of the cutting posts, Modi had managed to get around 15,000 fans within a few hours of joining the Chinese site.
Image: Prime Minister Narendra Modi taking a selfie. Photograph: Reuters