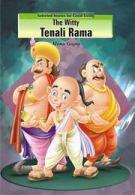 Classic original comics on your mobile phone? "Momics" are not a new idea, says Aabhas Sharma, but now, at last, they may capture your interest.
There's no particular age for reading comics. We all love them and have our own favourite comic book characters. Even though we might not be able to dedicate much time to them, given the chance we would love to.
Living in the digital age means we probably spend more time in front of the screens - mobile as well as computer - than we do reading. Which is where momics, or comics on mobile, come in.
You might scoff at the idea. But of late, there's been a revival of interest in momics.
Leading the charge is Sandeep Goyal, chairman of Mogae Digital, who strongly believes that momics will find many takers in India. "I think if the content is good, then the medium to a certain extent doesn't matter too much," says Goyal, whose company has a joint venture with Astro Malaysia.
Along with a team of over 300 professionals who create the content and graphics, Mogae has already developed over 20 titles including daily comic strips and monthly titles, cutting across genres to catch the fancy of readers and mobile users of every kind.
Some of these are Akbar-Birbal, Tenalirama, Bal Hanuman and a series on historical characters such as Hitler and Alexander.  "We have already tied up with Idea, Aircel and Tata Teleservices, and the comics go live on February 14," he says.
The process of creating a momic is fascinating. At Mogae there are separate teams dedicated to each step. First the basic illustrations are created. They go on to the colouring team, which decides how the momic will look. Simultaneously, the content is written by another team.
While some of the content is good, some of the writing is not. For instance, the Hitler series has excellent graphics, as does the Vikram-Betaal one, but the likes of Krishna and Alexander are not up to the same mark.
However, Goyal remains confident that the quality of content will see momics become more popular. "What we offer is excellent clarity, and since we have over 100 sizes of mobile screens, we have made sure that there is no compromise on clarity," he explains.
Mogae makes sure that no single story takes more than 12 frames to tell. Thus each comic strip can be viewed in less than two multimedia messages. We sampled their work on two different screens of different sizes, and the clarity was pretty good.
Returning to content, Goyal says that intellectual property rights remain entirely with the company. "It's a comic at the end of the day," he says, "and something which is funny as well as a take on day-to-day life, so you have to get it right."
Even TV's Cartoon Network is dabbling in the momics genre with strips on cartoon characters such as Dexter, Powerpuff Girls and Johnny Bravo.
Elsewhere, Rediff, too, has tied up with Diamond Comics, Panchatantra and Amar Chitra Katha to bring their products onto mobile screens.
Cartoon Network will offer mobile comics in partnership with a host of telecom operators such as Airtel, Idea, Reliance Mobile and Tata DoCoMo. These comics will reportedly be offered for download for as little as Rs 1 per day, Rs 10 per week or Rs 30 per month, though the pricing may vary by operator.
Pricing, feels Goyal, will be the major challenge and he is in talks with various telcos to make his momics affordable, because he is confident that people will get hooked to them.
Goyal also believes that the medium is one which even brands will want to advertise on. In a daily comic strip, for example, two characters could talk about having a chocolate or soft drink. This could be a new medium for brands, he envisages. The title Bike Rider, for instance, he says, could he sponsored by an automobile brand.
Mobile comics were launched once before in 2005, with a lot of fanfare. Back then, consumers were not interested, because they were not original and people felt they had already read them in the print format.
Diamond Comics and Amar Chitra Katha had supplied the content then. This time around, however, let's hope they are better prepared to take on the challenge of popularising momics.