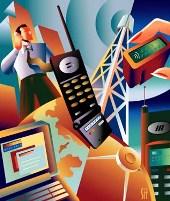 The department of telecommunications' attempt to cash in on the growing usage of internet services has not gone down well with the industry.

Miffed at a rise in annual licence fee on Internet service providers, industry body Internet Services Providers Association of India on Thursday said it would approach the Telecom Disputes Settlement Appellate Tribunal, challenging the new fees.

"We will file a petition at TDSAT for quashing DoT's move to levy additional charges on ISPs.

"This is a disaster. An increase of seven per cent of the annual licence fee would have a cascading effect and would lead to an effective fee of 21-28 per cent as smaller ISPs would be taxed multiple times," said Rajesh Charia, president of ISPAI.

DoT has decided to levy a four per cent licence fee on ISPs from July 1. The ISPs at present do not pay any licence fees.

A draft of the amendment to the licence fee says: "A uniform licence fee of eight per cent of the adjusted gross revenue shall be adopted for all ISP and ISP-Internet Telephony (IT) licences, in two steps starting from July 1".

While ISPs (without IT) will have to pay four per cent from the current zero duty starting July 1, the fee on ISP-IT
will be raised to seven per cent from the current six per cent.
From April 1, 2013, both will have to pay a licence fee equivalent to eight per cent of the adjusted gross revenue.
The move will also increase the Internet usage charges for the end-users, as ISPs would pass on the extra cost to users. Though Bharti Airtel said they did not see any immediate hike in tariffs, other ISPs are of the view that the levy will be passed on to consumers with immediate effect.
Jasjit Swahney, founder-chairman and chief executive officer of Net4, said: "Over the last few years, the prices of broadband have come down by 20-30 per cent on an average.
The benefit of this has been passed on to the customers.
If the government levys a licence fee, then that, too, will be passed on to the customer. You should also realise that this business has a very thin margin.
A lot of us have frankly no other option."