Thirteen years after stopping services in the country, US-based mobile satellite communications company Iridium Communications Inc is set to re-enter India with a plan to establish a dedicated gateway in the country.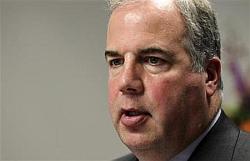 Nasdaq-listed Iridium is in talks with state-run Bharat Sanchar Nigam Ltd (BSNL) and MTNL, besides a private Indian group with interest in the telecom sector and a few individuals, among others, to float an Indian firm - Iridium India. In that, Iridium will have a 49 per cent stake.

The country's policy on foreign direct investment (FDI) in satellite mobile services allows foreign telcos to hold up to 49 per cent through the automatic route and up to 74 per cent after requisite approval from the Foreign Investment Promotion Board (FIPB).

As Iridium prefers taking a 49 per cent stake, the rest will be held by a clutch of Indian companies.

Also, under the policy, a satellite mobile operator has to mandatorily set up a gateway within the country to ensure all calls could be intercepted - a concern aggravated by the fact that terrorists operate with these phones to evade location.

Iridium CEO Matthew J Desch, who was in India to finalise the plans, told Business Standard in an exclusive interview: "We hope to finalise our partners in India within a month and then apply for licence. We aim to set up the gateway by the middle of 2014 for $25 million. We are setting up similar gateways in China and Russia, though we have only one in the US at present."

Iridium will invest a total of $50 million over a few years to offer its services.

It will replace the current 66 low-orbit satellites globally, with an investment of $5
billion. The satellite system was initially owned by Motorola, which had launched its services in India in 1999 with devices costing as high as Rs 99,000 apiece.
It managed to sell only 1,000 devices, against the prediction of having 35,000 customers in the Indian market in a year. The company, which had invested $5 billion globally, later sold the operations to a clutch of investors for only $25 million.
Iridium currently has about 600,000 users globally and has decided to focus in India on areas like public safety, military, defence, oil & gas, and forestry, as well as aviation (mobile phones for passengers and communication devices for pilots).
"It's not just satellite telephone. Other data businesses have become core for us. However, we do not target the mass market business segments," added Desch.
Desch said he expected to get 50,000-100,000 customers in India, and a majority share of what he estimated to be a $60-million market for satellite mobile communications, over the next few years.
He, however, said he was aware price mattered in India. "India is a price-sensitive market. Our pricing would be competitive. But these details are yet to be worked out," he added.
Globally, Iridium has about 300 technology partners that make applications for satellite communications usage.
"We expect Indian companies to join hands as technology partners when we start operations here. The applications developed by them would cater to the demands in other countries, too," Desch said.
Image
: Matthew Desch, CEO of Iridium Communications